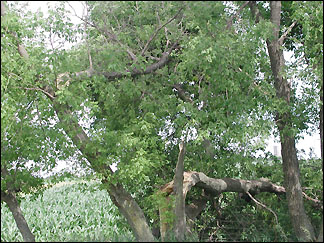 Storms over the Fourth of July weekend damaged farm buildings and downed trees north of town.

The first storm - on the night of Thursday, July 3 - also caused power outages in the early morning hours of the Fourth of July. That storm, with strong winds, prompted the civil defense siren in Paynesville to be sounded around 2 a.m.

Gary Reeck, who lives about four miles north of Paynesville, lost part of the roof to his dairy barn that night due to the strong winds. Though fixed temporarily over the weekend, the roof will need to be rebuilt, said Reeck, as soon as an order of rafters arrives.

On the Duane and Irene Burg farm a mile south of St. Martin, a 34' by 50' machine shed was taken down by the wind, said their son, Dan Burg. They planned to make the shed into their heated shop, but now will have to start from scratch, said Dan. The shed was broken into five or six large pieces, and debris was spread over 100 feet, in a calf hutch, in the garden, and in a corn field.

The storm was a "helluva way to wake up for the Fourth of July," said Dan. The Burgs plan to rebuild the shed this summer.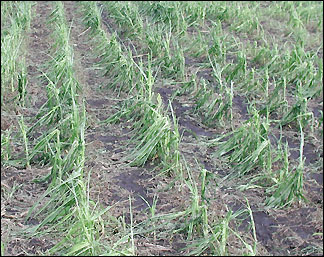 Dan said the winds did not appear to be straight-line, since the shed was spread to the east, but his parents' television antenna was bent to the south, and their farm had twisted trees.
Barb Lieser, who lives three miles northwest of Lake Henry, said she and her husband, Kenneth, "woke up to a noise like a train." She is not sure if it was a tornado, but it felt like one, she said.
Their farm had 10 big trees that were downed and 20 more that were damaged, she said. In 30 years on the farm, it ws the most damage she has seen from a storm.
Xcel Energy reported 82,000 customers were without power from Sioux Falls to western Wisconsin in the early morning hours on Friday. Of these, 29,000 were in the Twin Cities, and 18,000 were in the southwestern quarter of the state, in the service area headquartered in St. Cloud.
Locally, two major transmission lines went down around 2 a.m. on Friday morning. This affected electricity distribution in Paynesville, Eden Valley, Lake Henry, Regal, Roscoe, and St. Martin. Power was restored in downtown Paynesville by 3 a.m., and the other transmission line was repaired by 4 a.m. Xcel crews continued to repair distribution and house lines until Saturday.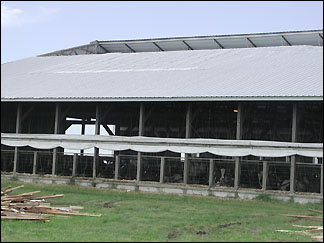 According to an engineer with Stearns Electric, the storm last week primarily hit a swath south of I-94 going across the county, from Belgrade to Clearwater. The downed transmission line cut power to two Stearns Electric substations until 2 a.m. and to another two until 3 a.m. Around 3,000 customers were without power due to the downed transmission line.
Once those were fixed, between 500 and 700 scattered customers remained without power while crews continued to fix lines. Stearns Electric crews were done by 8 p.m. on Friday, after 18 hours of work to repair storm damage.
Reeck said the severe weather did not end on Friday. A ten-minute hail storm, with marble-sized hail, hit his farm on Sunday night and damaged his corn crop. In 25 years, Reeck said it was the most hail that he has ever seen.
---
Contact the author at editor@paynesvillepress.com • Return to News Menu
Home | Marketplace | Community
---