Summer Theater to present two plays
This article submitted by Linda Stelling on 7/7/98.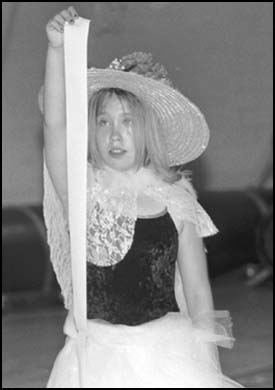 The Paynesville Area Community Education Summer Theater will present an evening of humorous plays and entertainment on Monday, July 13, and Thursday, July 16, at 7:30 p.m. in the elementary gym.

Admission to the plays is $2 for adults and $1 for students. Free refreshments will be served after the plays.

The students in kindergarten through seventh grade have been working hard on two plays and one short skit.

The first play is entitled ďThe Little Red HenĒ and is an imaginative version of the traditional story. Cast members are: Cary Jo Schlick, Little Red Hen; Ted Hoffman, dog; Megan Whitcomb, cat; Krista Wendroth, duck; Taylor Haag and Holli Kern, rabbits; Joseph Hukriede, cow; Michael Vaske, pig; and Morgan Kern, lamb.

The skit is entitled ďLife in the Boonies.Ē It is about a group of Iowa teenagers discussing what is good and not so good about living life in rural Iowa. It offers humor and an honest look at life in the country.

The final play of the evening is a hilarious version of ďCinderella.Ē Cinderella attends the ball in high top basketball shoes. The prince thinks sheís wonderful because Cinderella knows a lot about basketball. The usual mice and stepmother and stepsisters add a zany touch to the play.

Will Cinderella get her prince by making the layup and answering the basketball quiz?

Cast members of Cinderella are: Nick Binsfeld, Prince Charming; Josh Binsfeld, Duke; Tanya Whitcomb, Duchess and cat; Susie Swyter, Cinderella; Sami Tierney, stepmother; Katie Schlick, Uglinea; Amanda Bruntlett, Gruzella; Laura Hoyme, Godmother; Breanna Kochmann, Goddaughter; Lindsey Pelton, Stephanie Louis, Amanda Kern, Ashley Koll, Zachary Schwandt, Emily Mehr and Lauren Vaske, mice; Kristi Louis and Lindsey Wyffels, guards; Courtnie Higgins and Sami Stanger, women at the ball.

ďIn between the one-act plays some of the children will be performing a talent show,Ē directors Colleen Pelton and Sue Teicher said. ďPlease come and join us in this evening of entertainment,Ē they added.
---