Girls Staters learn about politics
This article submitted by Linda Stelling on 7/7/98.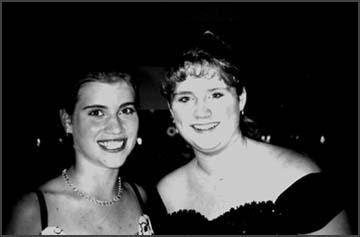 Megan Pelz and Wendy Utsch attended Girls State from June 14 to 20 at Bethel College in the Twin Cities. The girls found Girls State was a good way to learn about politics.

ďGirls State was very interesting as you received hands-on experience,Ē Utsch said. ďWe learned more about politics as the campaigns werenít biased. We saw a different view than what you see in the news or on television.Ē

Pelz said Girls State was a good way to learn about politics and how the government is run.

Among the politicians visiting Girls State were Attorney General Skip Humphrey, Supreme Court Justice Marion Marrinan, Judge Daniel Foley, and Hennepin County and Blue Earth county commissioners.

By attending Girls State, they took part in establishing a mythical city, county and state. They also had the experience of being part of an election campaign, of serving on the state legislature or sitting in as a judge or being a participant in a mock trial.

While at Girls State, girls divided into their own cities and counties. Megan lived in Tate, while Wendy lived in Maphi. By coincidence, both girls served as ďjudge of electionĒ for their individual cities.

The girls said the judge of election had to escort the Girls State governor and lieutenant governor and help carry in the flags for the opening ceremony.

Utsch said she was a lawyer in a mock trial concerning a case of a girl smoking marijuana in the school bathroom. Utsch had to present the opening statement. ďThe girl wasnít guilty in the end,Ē she added.

Pelz said she was a witness in the trial where a bank employee embezzled money from the bank. ďWe lost our trial by one vote,Ē she added.

Sunday, June 14, was get acquainted day at Girls State. The girls attended opening ceremonies, city meetings and a general assembly.

Monday, June 15, was Americanism Day. The girls listened to Representative Carol Molnau and Jacki Stevenson, director at large of the DFL Party. They learned about the flag, symbol of Americanism, flag etiquette and flag folding.

Utsch said she did not realize that each fold of the flag had a different meaning.

On Tuesday, County Day, the girls learned about county conventions and got into their caucus counties. They also organized their cities and filed for county offices. Utsch said she was a member of the Naturalist caucus in Sioux County and Pelz was a member of the Federalist caucus in Winnebago County.

Wednesday, June 17, was Election Day. They received instructions for filing for state offices and how to hold a state party convention. During the afternoon, the girls campaigned for the general election.

On Wednesday, the girls had to start putting the laws and rules to use that they had passed in their cities.

Thursday was Inauguration Day. The girls practiced for the inauguration and had a formal lineup for a processional. For the inauguration, Associate Justice of the Minnesota Supreme Court Esther Tomljanovich was on hand.

The girls had an opportunity to dress up formally for the inauguration.

On Friday, Capitol Day, the girls headed over to the state capitol. They held a joint convention of the House and Senate in the House chamber. ďWe even got to hold a mock session of the House,Ē Pelz said.

ďWe encourage others to try for the trip to Girls State, especially if they are interested in government and law,Ē Pelz said.

Each night of the week, at about 10:15 p.m., the girls all met for ďreflectionsĒ on the dayís activities. ďWe talked about the day. They wanted us to be honest and open with our feelings,Ē Pelz said.

ďI didnít consider our government meaningful until I attended Girls State,Ē Utsch said. ďI also learned what our veterans did for our country and the sacrifices they made.Ē

ďWe will both have a lot of good memories of Girls State,Ē they said.
---