Couple weds after 18-year romance
This article submitted by Linda Stelling on 7/7/99.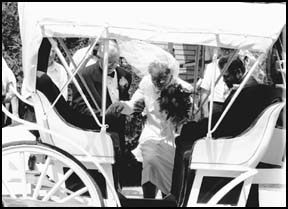 Dolores Hislop, Paynesville, and Daniel Kuhl, Richmond, met at a square dancing class in 1981.

Kuhl's wife had died in 1981 and friends thought he needed to get out and meet people. "I met Dolores at the classes held by the Koronis Nite Owls. Neither of us had partners," he said.

After seeing each other for a year, Kuhl thought he should go out with other women, women of his own religion. "My parents were strict about marrying someone of your own religion. My dad died in 1984 and mother died on Jan. 3, 1997."

After awhile, Kuhl stopped seeing other women as his mother needed more and more attention as she neared her 100th birthday.

Even though they didn't see each other, Hislop and Kuhl kept writing back and forth to each other.

"I didn't tell my lady friends about Dolores," Kuhl said.

In 1997, Hislop asked if Kuhl could do some work around her home. "When I started working for Dolores, I started dating her again," Kuhl added. They dated about two years before he asked Hislop to marry him.

Kuhl had seven children and nine grandchildren and they were all in favor of him marrying Hislop. Hislop had never been married before.

"I had always liked him," Hislop said.

The couple was married on Friday, June 25, at the Calvary Baptist Church, in Paynesville. "My son had a red GTO convertible and we asked if we could use it on our wedding day," Kuhl said. Prior to the wedding, nobody said anything about decorating the cars.

After the ceremony was over, the couple had a pleasant surprise. They found a horse and buggy waiting for them outside the church to take them to St. Louis Catholic Church where their marriage would be blessed. From the Catholic church, the buggy driver took them to the Paynesville Area Center where they held their wedding reception for friends and family.

Kuhl is a school bus driver for the Rocori School District.
---