French farmer visits former host family
This article submitted by Linda Stelling on 7/7/99.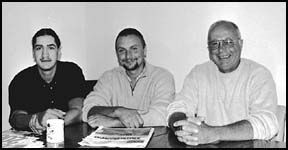 Ten years ago Mark Gilloots, France, worked on the Art Voss farm through a University of Minnesota ag program. Last week, Gilloots returned to visit Art and Berniece Voss in Paynesville.

"I liked the Paynesville area because Paynesville is such a nice clean city," Gilloots said. On his trip to Minnesota, he brought along his nephew, Guillaume Gilloots. They arrived in the United States on June 8 and plan to return home July 15 in time for the harvest season.

Guillaume Gilloots, left, Mark Gilloots, center, and Art Voss, right.

Gilloots explained he has a cousin farm training in Canada. "While I was here to see my cousin, I took a detour to visit Art (Voss)," Gilloots added.

On his farm in France, he raises winter wheat, barley, corn, sugar beets, and peas. Gilloots has a 400-acre dairy farm with a 65-cow herd. He is in partnership with two other men. The men rotate their farm duties so no individual has to work every weekend. "Everybody gets time off from the farm. How else would I be able to take a trip to Paynesville," Gilloots said. Besides his interest in farming, Gilloots also serves on the city council in his home and is a member of the Farmers Union. His farm is located on the edge of town and he lives within the city limits.

"Times are changing," Gilloots said. "Ten years ago, we used to be able to walk our cows a half mile through town to the pastures. With more people moving from Paris to small towns, we have had to discontinue the walk. The cities in and around Paris are growing as people want to live in a small community. Yet they want to have all the same services they had while living in the big city," he said.

Gilloots said through his experience on the Voss farm he is more open-minded about different ways of farming. "Americans are good at what they do," Gilloots said. "Farmers are more specialized and efficient in what they do. The farmers in Europe are too laid back. In small ways (technical things) I've been able to improve my farm. My herd production has increased by almost 1,000 pounds.

"Coming to Paynesville was an eye- opener. Paynesville is a tight knit community, everybody seems to know everybody else. The people are friendly and the church people are united together. It is not that way in France. Society is not connected and people do not keep in touch with their neighbors," he added.

Gilloots likes surfing the Internet and reading American newspapers. He said it helps keep him posted on what other farmers are doing. "The Internet also helps me keep up with my friends in Paynesville as well," Gilloots said.
---