Paynesville man begins the journey of a lifetime
This article submitted by Jeff Wagner, St. Cloud Navel Recruiter, on 7/7/99.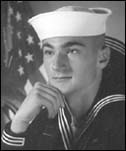 Maybe you've seen this familiar face around the local area for the past couple of weeks. You may have seen him proudly wearing his navy uniform. You may also wonder what Nathan Bork has been doing since he graduated from Paynesville Area High School in 1997.

Nathan won't be shy in telling you either. "I am home for a couple of weeks working with the local Navy recruiting office before I start my plebe training at the Naval Academy in Annapolis, Md." After graduating from Paynesville Area High School, Bork embarked on a journey where his first stop was nine and a half weeks of basic training in Great Lakes, Ill. Bork chose to study nuclear engineering and after basic training his journey took him to his second stop, nuclear power training school at Orlando, Fla. This program is the toughest academic training the Navy has to offer. It is also the toughest to get accepted into as only about two percent of high school graduates qualify for this program. For qualifying, the Navy also gave Bork $50,000 for college.

Studying diligently to be a nuclear electronics technician, Bork immediately excelled to the top of his class. During his school, he applied for entrance into the Naval Academy and on the last week before graduating he was notified that he was accepted and would be part of the Naval Academy's Class of 2003. Bork said, "At first I was in shock, then after the news sunk in I started calling everybody." His first phone call went to his parents, Bruce and Elaine, who could not have been prouder.

Nathan finished his training and embarked on the next leg of his journey, which took him to Newport, R.I. While there, he attended Naval Academy prep school. "This was a kind of boot camp for officers," Bork said. In May, he completed that training and headed home for a little rest and relaxation. He is going to need it as he starts his plebe training (freshman year) today, June 30.

Having been home for a month, Bork said, "It was nice to see everybody. Especially my family, old classmates, and teachers." He was also excited to let everybody know where his journey is taking him next.

"The cost of a four-year education at the Naval Academy is priceless," said Bork. "The Navy is a great organization where your opportunities are limitless. More people should look into it. Look at me, I am living proof."

Bork will major in electrical engineering while at the Naval Academy and is expected to graduate in May 2003.

"After that who knows where I will be, all I know is that I am moving forward in my life," Bork said. "Wherever his journey may take him, we all wish him the best of luck. He is a great guy and a huge success story. We are real proud of him," said the Navy recruiting supervisor for St. Cloud.

Bork left Sunday, June 27, for Annapolis and said he will keep everybody informed of where he is and is looking forward to coming home for his next visit.
---