A new development, Ridgeview Sixth Addition, was approved last week by the Paynesville City Council. Located on Spruce Street, south of Highway 55, the addition will add 12 lots to the city.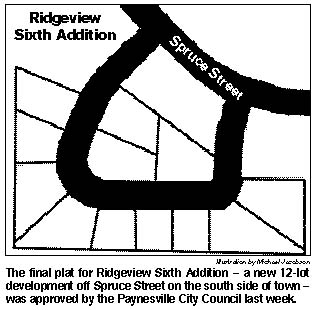 The lots will be zoned for single family homes and will vary in size and in terrain with some flat lots and some situated on slopes, according to Pat Flanders, the head of the developer's group.
Ridgeview Sixth Addition is the fourth new development within the city since 2000. During that time, over 50 residential lots have been added to the city.
Flanders and his 11 partners - mostly his siblings and their spouses - planned the development as an extension of Ridgeview Fifth Addition, which they had previously developed.
The new development creates 12 lots in an outlot of a previous development. The lots will be accessed via a new street - Coakley Street - which loops onto Spruce Street.
Last month, the city council approved a development agreement ordered engineering plans for street and utility improvements. Before approving the final plat last week, the city granted a variance allowing the developers to plat three large but irregularly-shaped lots. These lots meet the city's size requirements but did not meet its requirement for a minimum frontage of 75 feet.
The city council has agreed to complete the street project in the new development and then assess the costs back to the new lots. The estimated cost of building the new street, adding curbs and gutters, and installing utilities in the development is $212,480.
A retention pond also will be built on adjacent property, also owned by the developers, to handle stormwater runoff. Instead of setting aside green space, another requirement of developments in the city, the developers have agreed to give the city $2,500 for developing park space elsewhere in the city.
Flanders would like to begin construction before winter, but construction can't be scheduled until assessment hearings are held.
---
Contact the author at editor@paynesvillepress.com • Return to News Menu
Home | Marketplace | Community
---