A large bloom of blue-green algae last week prompted the Rice Lake Association to test the water of Rice Lake, revealing high levels of fecal coliform.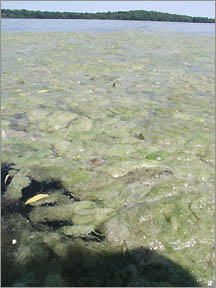 The algae bloom, which started on Saturday, June 26, was "the worst I have ever seen it," according to Kay Hanson, president of the Rice Lake Association. A sample of water, collected by the association and tested by a lab, had levels of fecal coliform at 555 colonies per 100mL. Water quality standards used by the state require posting advisory signs when five samples within a 30-day period exceed 200 colonies per 100mL or when 10 percent of the samples test over 400 colonies per 100mL.
A recent sample from Rice Lake tested high in fecal coliform. The test was taken after an algae bloom, as shown at left, on the lake. Testing will continue.
No official warning has been issued, but swimmers should be aware when heading to a local lake. Fecal coliform is a health hazard in addition to a water pollutant causing algae blooms. According to the Minnesota Pollution Control Agency, the most common illness associated with swimming in bacteria-contaminated water and ingesting the bacteria is gastroenteritis, which includes symptoms of nausea, vomiting, abdominal cramps, fever, headache, and diarrhea. Other possible illnesses, according to the MPCA, are ear, eye, nose, and throat infections.
The MPCA recommends the following advice to swimmmers in bacteria-contaminated water. Do not swim if you are sick or if you have a weakened immune system. Do not swallow the water - try to keep your face and head out of the water. Always shower after swimming.
Though the water quality has already improved on Rice Lake, the Rice Lake Association plans to continue to test the water over the next month for fecal coliform. Until it has more tests, the association cannot make any formal recommendations, said Hanson, who is a nurse herself, but she advises that people be aware and use their best judgment when deciding to swim. Everyone has their own tolerance level for swimming, she noted.
Rice Lake and Lake Koronis are connected by the Crow River, with Koronis a couple miles downstream of Rice, meaning water from Rice (with high levels of fecal coliform) affected Koronis, too, but the only tests on Koronis revealed low levels of fecal coliform.
The Rice Lake Association is also trying to identify the source of the recent fecal coliform outbreak in Rice Lake.
Possible sources of bacteria in water, according to the MPCA, include malfunctioning sewage systems, storm runoff, animal waste, agriculture runoff, and bather defecation.
---
Contact the author at editor@paynesvillepress.com • Return to News Menu
Home | Marketplace | Community
---