Dr. Ray Lindeman, who delivered some 3,600 babies during his 45-year medical career, has published his first poem by the International Society of Poets.

Lindeman, a native of South Dakota who turned 80 in June, moved to Paynesville in 1949 and retired from active medical practice in 1994. Writing poetry is one of his retirement hobbies.

Dr. Ray hadn't written a poem since grade school before writting "Ode to Bean Soup" a couple years ago. That poem was published in an anthology by the International Society of Poets, and Lindeman read his poem at their weekend conference in Orlando, Fla., in March.

It was the first time Dr. Ray had entered a poem in a contest. "I entered that poem as a lark, and all of a sudden it gets published," said Dr. Ray. "It's the first poem in the book, believe it or not."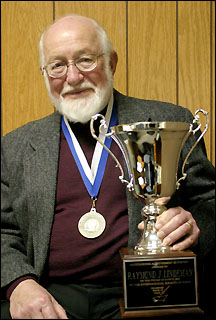 When Dr. Ray and his wife MaryLou got the book and started to search the table of contents for his poem, they were surprised to find it on the opposite page, the very first poem in the book. "We decided it was the funniest poem in the book. They had to get people started in the right direction," he explained.
Dr. Ray Lindeman had his poem, "Ode to Bean Soup," published in an anthology. He read the poem at a poetry conference in March in Florida.
He read the poem at the conference to a crowd of 100 people. Seeing smiles on people's faces made the whole trip to Orlando worthwhile, he said, noting that the conference was meant to stroke everyone's ego but that it was fun to be around so many people with a common interest in poetry.
Most of the poems at the conference had somber or morose tones, but Dr. Ray prefers light and funny themes. Poems with humor and rhyme are what he liked as a kid, he said, so he uses iambic pentameter and rhyme and generally tries to make his poems humorous.
He also writes mostly from experience. "It's a lot easier that way," he said. "I don't have to do any research. I just reach inside, and it's there."
For "Ode to Bean Soup," Dr. Ray took his medical knowledge and his imagination and let them run wild, he said.
He writes poetry infrequently, just five poems in the last two years. "I don't do a lot of it. I thought ('Ode to Bean Soup') was kind of cute," he said. "It's funny."
Mostly he writes poetry when he feels inspired. For instance, he wrote "Tears" last fall in less than an hour. He has submitted this poem, which is about MaryLou, to the poetry contest this year.
Dr. Ray and MaryLou read devotions together every morning, from three different versions of the Bible, to scrutinize the wording and the meaning. These morning devotions frequently lead to grabbing the dictionary and talking about the meaning of words and their derivations.
For the past 20 years, he has also written a personal history, which he intends to give to his family.
Aside from poetry, Dr. Ray likes woodworking, working outside, Internet surfing and e-mailing on computer, being active at Paynesville Lutheran Church, spending time with his wife, his children, and grandchildren, and reading and keeping abreast with medical literature.
---
Contact the author at editor@paynesvillepress.com • Return to News Menu
Home | Marketplace | Community
---