Koronis Hills Golf Club turns 75 this year, but golf in Paynesville has actually been played for longer than the community has had an official course.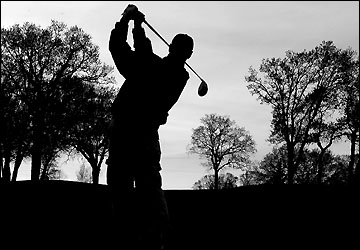 In September 1929, 27 original shareholders formed Koronis Hills Golf Course, according to Bert Lang, a seven-time women's champ at Koronis Hills who wrote a history of the club in 1985. These original shareholders raised $10,000 -Ęby selling 400 shares at $25 each - for the purpose of purchasing land and constructing a nine-hole course.
Koronis Hills Golf Club - founded in 1929 - turns 75 this year. The course, which opened for play in May 1930, was carved out of a pasture and still boasts many original oak trees. The course expanded to 18 holes in 1997.
In October 1929, the group purchased 70.45 acres of land from William Diekman for the course. The name - Koronis Hills Golf Club - was chosen in November 1929.
In March 1930, the property was surveyed, and in May 1930, play began on the new nine-hole course with sand greens.
Before Koronis Hills was built, the only golf course in the area was an 18-hole course on the south shore of Green Lake, according to Lang, which was quite a drive in the days of the Model T. So local men got permission to play using tin cans for cups in Diekman's pasture, on land later bought for the golf course.
In 1918, according to Lang, three golfers on the pasture course were chased up a tree by a bull and had to sit on its limbs for an hour until someone came to drive the cattle home from the pasture.
Cliff Nehring, 83, whose father was the first club champion of Koronis Hills in 1933, believes he played that original pasture course as a kid. Locals had three holes in the pasture, roughly corresponding to the current #1, #2, and #3 that made a triangle layout and could be played repeatedly, he said.
In those days, said Cliff and his cousin Wes Nehring, who played Koronis Hills as a kid in the 1930s and 1940s, the access to the course was the current Maple Street, which then was known as the Ice Road and was a key road to Lake Koronis, which supplied ice for Paynesville.
Over 25 years rocks, trees, and brush were removed from the course, according to Lang. At one time, the rough included so many rocks that golfers got a free drop if their ball landed near a rock that would interfere with their swing.
Finances were tight for the club during its infancy. During the Great Depression, the greenskeeper and his family actually lived in the clubhouse in 1933 to save expenses for the club.
The club for several years allowed the grass in the rough to grow to two or three feet in order to harvest the seed. Selling of these seeds was discontinued after a few years, according to Lang, because golfers disliked losing balls in the small stacks of grass, like haystacks, in the rough.
Yearly family memberships in the 1930s were $10; single male memberships were $7.50; single female memberships were $2.50; and green fees were 25˘ on weekdays and 50˘ on weekends.
In 1939 - the earliest records that exist, according to Lang - club membership was 13 families and 55 singles. Now, in 2004, the club has 150 family memberships and 220 singles, totalling around 600 members.
During World War II, in 1944 and 1945, the club had trouble mowing the course due to gasoline rationing, former pro Bob Haines told the Press when the club celebrated its 50th anniversary in 1979. There was no one around to mow, either, but the club did not close, despite the long grass.
In 1944, the club had to borrow $350 from the village of Paynesville at one percent interest. In 1945, it had a cash balance of $1.33. Several donations from benefactors kept the club afloat in its early years.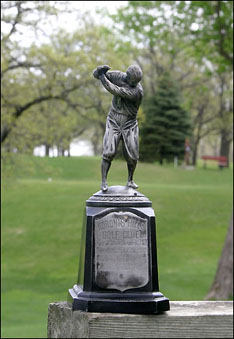 The course has not always had the amenities that it currently does. For many years, golfers had to bring food and water with them from town, according to Lang.
Milton Nehring earned this trophy for being club champion at Koronis Hills in the 1930s. He won the first club championship in 1933 and then defended his title the next two years.
And it was not staffed with full-time help like now, though it did usually hire a greenskeeper at least. "We used to come up and have work nights where everybody would come and clean up the course," said Milt Koshiol, who moved to Paynesville and joined Koronis Hills in 1949.
For years, the course relied on the honor system for green fee payments, said Cliff and Wes. Nonmembers were expected to put their quarter in a box when they played the course.
The course also had caddies, including Cliff, who used to loop for local players for 25˘ per round. The first motorized cart at Koronis Hills arrived in 1970, owned by Dick Morelan, according to Lang.
Though the club had a series of buildings that served as clubhouses, the current clubhouse was not built until 1958, with just part of the ground floor being built. The clubhouse was enlarged in 1964, and then in 1967 the top floor was added.
Golf equipment has changed drastically in the past 75 years, said Cliff, Wes, and Milt, from hickory-shafted clubs (which actually had some whip, according to Cliff, but are not as consistent as metal shafts) to balls, which used to cost 25˘ apiece at the drug store.
According to Lang, clubs had distinctive names back in the 1930s. A #2 wood was called a brassie, and a #3 wood was called a spoon. A #2 iron was called a midiron, a #5 a mashie, a #7 a mashie niblick, and a #9 a niblick.
Koronis Hills has been called "a hidden gem" by a regional golfing magazine, and the course's front nine layout is still very similar to the original course.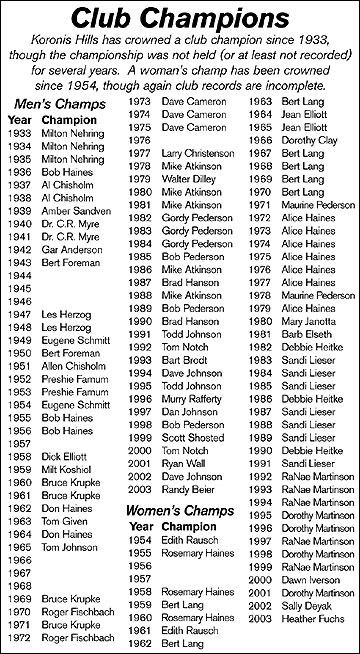 Among the original holes - some were altered when the course expanded to 18 holes in the 1990s - are #1, #2, #3, #4, #8, and #9. Of these, #1 was a 467-yard par 5 until 1961. The tee was on the hill back where the clubhouse now stands, and the tee shot required hitting over the hill where the first tee now stands.
The hill where #1 tee now stands was cut down by a John Deere tractor in a demonstration when the hole was changed to a par 4, according to Cliff.
"It was a real good course," said Cliff of the original course. "I liked the sand greens. I could do better on those than I can on grass."
"In a way," he explained, "(sand greens) played easier than grass greens because every putt was the same speed."
People played mostly pitch and run shots onto the sand greens. And the pin location was static. "That never moved," said Wes. "It stayed right in the middle of the green."
Sand greens, though, took longer to play because after you were done putting you had to rake the green to remove all the footprints. "That was the biggest thing," explained Wes, "because everytime you had to get it ready for the next group."
Koronis Hills started planting grass greens in the late 1950s, according to Wes. The club built temporary greens to use and then rebuilt the sand greens with grass.
Grass greens were completed in 1962, according to Lang.
In May 1961, Koronis Hills Golf Club became a nonprofit organization, with original shares being used for membership and all adult members being given a right to vote in club affairs. It still runs this way, with a board of directors elected by the membership and by holding an annual business meeting.
The club purchased 40.2 acres in 1969 from Diekman and 19.75 acres from Leo Louis in 1980 in order to expand to 18 holes.
Expansion to 18 holes in the 1990s cost approximately $700,000. A fundraising campaign started in 1993. After completing an Environment Assessment Work-sheet in 1994, a plan was agreed upon in 1995, and construction started that spring. Grass was seeded in 1996, and the new back nine opened in June 1997.
---
Contact the author at editor@paynesvillepress.com • Return to News Menu
Home | Marketplace | Community
---