Last January, a Paynesville student got an up-close view of the Iowa Democratic Caucuses, won by Massachusetts Senator John Kerry, who now faces incumbent President George W. Bush in November.

Anne Janotta, a 2000 PAHS graduate, spent four days working for ABC News before the Iowa caucuses in January. During her last semester at Drake University in Des Moines, Janotta aided ABC News in its production of World News Tonight and Good Morning America from Iowa.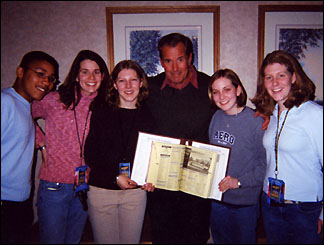 Janotta, who graduated in May from the Drake University School of Journalism and Mass Communication with a major in advertising, was already working as an intern for the local ABC affiliate, writing the ad copy for radio ads, a six-month gig, when she was offered a chance to work for the national news department during its coverage of the Iowa caucuses.
Anne Janotta (second from left) and several other interns with ABC News pose for a picture with news anchor Peter Jennings last January.
"Obviously, when these networks come to town they need people to help out," said Janotta, the daughter of John and Mary Janotta.
In the four full days that she worked for the national news organization, Janotta estimated that she worked 60 hours. Days were long, following candidates, interviewing caucus goers, taking footage from various locales in the state, and then editing all this into newscasts. "It was so crazy," said Janotta of these four days with ABC News.
World News Tonight with Peter Jennings broadcasted live from Council Bluffs one evening, and Good Morning America with Charles Gibson broadcast from Iowa City another day.
Janotta mostly drove a van, carrying personnel and equipment for ABC News during her work stint. "We were go-fers, but it was a fun job," she said. "I can be Charlie Gibson's go-fer."
Janotta spent two days with Peter Jennings, the Canadian host of World News Tonight, when he came to Iowa. "Basically, I got to watch this big, huge ABC bus drive into towns," she said of their tour of small Iowa towns with ABC News. "And then Peter Jennings would hop out and interview people. And I got to watch their reaction."
While most people were surprised to see the well-known TV news anchor in their small corner of Iowa, the most surprising stop by Jennings came at a little intersection when he got out of the bus to ask directions, said Janotta.
One day, Janotta got to drive Jennings and his wife in a van to get some coffee. Jennings saw Janotta's art history textbook (Janotta brought her books with so she could study while waiting to drive again) and they talked about art while driving to the coffee shop. Jennings, she said, was very personable and very nice to all the interns.
Just before World News Tonight hit the airwaves, they had a power outage in Council Bluffs, Janotta said. But Jennings, without a teleprompter, remained calm and was unflinching, she said.
Gibson, during the live broadcast of Good Morning America, interviewed former Vermont governor Howard Dean on the show. Dean, the Democratic frontrunner before the Iowa caucuses, lost to Kerry in Iowa. Kerry is now the Democratic candidate for president against incumbent president George Bush this fall.
The live broadcasts were interesting to see, said Janotta, who felt she learned a lot about the technical aspects of television from watching the broadcasts. She thought the experience was extremely beneficial even though she prefers advertising to news.
The two days that Janotta spent with Jennings in Iowa was condensed into a two-minute feature on World News Tonight. "It was so much fun to watch it," said Janotta, "because I could say, 'I was there. I was there.' I could recall all the different spots."
While presidential primaries in Minnesota hardly ever make national news, the Iowa caucuses were a major national story that put the state in the national spotlight for months, said Janotta, who experienced her first Iowa caucuses during her senior year at college. Presidential candidates, especially the contested Democratic field, blitzed the state with ad campaigns for six months.
Janotta was sad to see her time with ABC News come to an end, yet she was glad to see the fury of presidential politics move to New Hampshire, the next primary state after Iowa. Still, after her four-day internship with ABC News ended, Janotta sat on her couch the next day with post-ABC blues, she said.
---
Contact the author at editor@paynesvillepress.com • Return to News Menu
Home | Marketplace | Community
---