No treats will be sold to the children - or adults - who pass by the Birch Beach Store this summer. Jerry Haagenson and his son Dean Haagenson decided not to reopen the store, which is located on the south shore of Lake Koronis and was originally built by his uncle almost 50 years ago.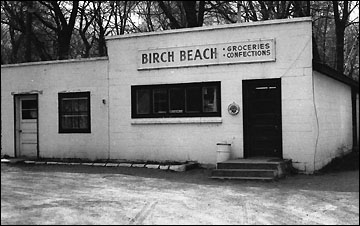 Three of Jerry's uncles owned the store before it was sold out of the family. Jerry and Dean purchased it in 1998, which, according to Jerry, was "more of a nostalgic thing" than a business venture.
Birch Beach Store - located on the south side of Lake Koronis - first opened in 1957. This year, the small store will not be reopening for the summer.
"My uncles ran it more like a business. We ran it more like a hobby," he explained.
It is a lot of work to run a store, with ordering supplies, picking items up from suppliers that do not deliver to small stores like Birch Beach, staffing the store, and keeping paperwork accurate, said Jerry. Without that commitment, he will have more time to fish and play golf.
Olaf Haagenson constructed a 14-foot by 20-foot building next to his parent's home in 1957 and named it Birch Beach Store because of the birch trees found on the property. Though it was single-walled at first, which was sufficient for its summer hours, soon a larger, weatherproof building was constructed, and the store stayed open year round. Its customer base was the farmers, vacationers, and year-long residents of that side of the lake.
At the time, Birch Beach was a full convenience store, selling gasoline, basic groceries, and other necessities to customers, who then did not have to make a trip into Paynesville.
In 1965, Olaf's brother Manther, who was a barber for 50 years, took over the store's operation. He used part of an addition to the store as a barber shop for two of the five summers he was in charge and continued running the store and gas station. He kept the store open for limited winter hours, as well.
There was an icebox that Manther kept down by the lake, which was filled by a neighbor. The ice blocks, which were about 200 pounds apiece, were packed in sawdust and used to keep the store's ice cream cold.
Birch Beach changed hands within the family again in 1970, when a third brother, Clarence, bought the store. He sold his farm in Irving Township, and he and his wife began running the store. Winter hours at the time were 12:30 p.m. to 8 p.m., but the summer hours were much longer. At one time, they were 8:30 a.m. to 9:30 p.m. seven days a week.
For a time, the store was even accessible by lake. Boaters pulled up at a dock, walked up a hill, and crossed the road to the store.
Ten years after buying it, Clarence retired from the store and sold it to Elaine Vanderpool, keeping the property next door that the family home was on. All three of the brothers had lived in their parents' home while running the store, which had been in the family 23 years. Vanderpool and Alan Hubred owned it for a short time each, and then Hubred sold it to Bud and Leola Wendroth.
The Wendroths ran Birch Beach for 13 years, during which time they remodeled and added a new store front. It was no longer feasible to keep the store open during the winter months, so the Wendroths ran it from the beginning of May until the beginning of October.
Jerry - who grew up five miles from the store and often traveled from his family's farm to visit it - bought the store with Dean eight years ago. He and his wife, Bev, have a summer lake home near the store and Dean and his wife Debbie have spent many summer weekends at the lake with his family throughout these years.
Dean's two boys, Ryan and Brent, worked at the store a lot, said Jerry, and Debbie's daughter Leslie helped, as well.
Recently, the store has been run during the summer, from the opening of fishing through Labor Day weekend.
Jerry said he enjoyed meeting the customers of the store, including some parents who came to the store as kids and now bring their own children. Long-time favorite items for the customers, Jerry added, were ice cream treats and penny candy. Penny candy was available until just last year, when the price on it was finally raised.
His favorite memory from the store is seeing the excitement of children who came to buy the penny candy, said Jerry.
Now, it would be difficult to make a living running Birch Beach, Jerry added. If a different shop, perhaps with homemade items or service work in some type of trade, was run with it, it could work, he believes. As it is, with most lake residents going to town daily, it is "a different time" than when the store began.
The property may go up for sale, said Jerry. Loyal supporters of the store have his gratefulness, he said, adding that he and his family will miss seeing them.
---
Contact the author at editor@paynesvillepress.com • Return to News Menu
Home | Marketplace | Community
---