Midnight Roastery opens for business
This article submitted by Linda Stelling on 7/5/00.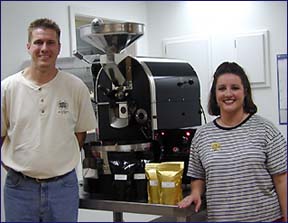 Tory Tish has had a passion for coffee for 10 years. "There is nothing quite like a cup of fresh roasted, fresh ground, fresh brewed coffee. Buying whole bean coffee is the best way. The flavor is sealed into the bean until it is ground," he said.

Four years ago, he began roasting coffee at home as a hobby. Now Tory and his wife, Kim, have opened Midnight Roastery on James Street across from the post office in downtown Paynesville. They wholesale roasted coffee beans to stores and restaurants and sell beans to the public, as well as French press pots and other types of coffee makers. "Our love for a good cup of coffee has led us to open a coffee roastery," Tory said.

"When I first became interested in coffee, I had no idea there was so much involved in bringing coffee from the seedling tree to my kitchen table. It is fascinating how it is grown and processed," he said. Tory explained that the fruit of the coffee trees are about the size of a cherry. Inside the fruit are two coffee beans. He said coffee is the most labor intensive agriculture product in the world.

Tish said the best coffee beans are picked by hand and grown in the tropics at high altitudes. Coffee's taste characteristics are dependent on variables like soil content, altitude, moisture, and the method of processing. The Tishes have beans from Kenya, Sumatra, Columbia, Tanzania, Papua New Guinea, and Hawaii.

The flavors vary from place to place. Coffee can taste fruity, chocolaty or even nutty. "I like all the coffee types and appreciate the different taste characteristics," Tory said.

How the coffee beans are roasted also plays a part in the way it tastes. The Tishes have a small roaster and can roast seven pounds of beans in 15 minutes at a temperature ranging from 400 to 440 degrees. "As a coffee roaster, we must determine through constant tasting and testing what degree of roast best suits each coffees particular taste characteristics," said Tory.

At present, the Tishes are only selling beans, but they hope to create seating for a coffee house. They would serve cappucinios, Italian sodas, and espresso-based drinks along with sweets and treats and light lunches, Kim said.

Midnight Roastery is open Mondays, Wednesdays, and Fridays from 9 a.m. to 4 p.m., and on Saturdays from 9 a.m. to noon. On Tuesdays and Thursdays, Tish will be roasting coffee beans and on the road promoting his coffee.
---