Students observe people and animals of Tanzania
This article submitted by Erin Aagesen on 7/6/00.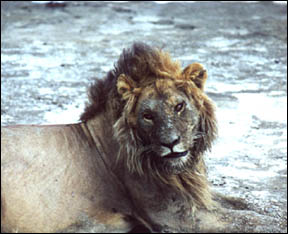 The photographs that Sam Ainsley and Josh Mueller took in Tanzania show the scenes of the quintessential Africa. Lions, zebras, and elephants are set against the landscape of the savannah. Native people, dressed in colorful clothing, smile at the camera.

"It was a dream," said Ainsley, of his decision to travel to Africa. "I always wanted to go there."

Both Ainsley and Mueller traveled to Africa to study wildlife after their spring college terms ended this year. Though they took similar trips, the travels of the two young men were unrelated.

Ainsley went through Vermilion Community College in Ely, where he is a wilderness management major. Mueller, a biology and chemistry major, traveled through Concordia College in Moorhead.


Ainsley's safari
Ainsley was in Africa from May 15 until June 3. He traveled with a group of 29 students and one professor, all from his college.

The group flew in and out of Nairobi, Kenya, where they bartered at the markets. Most of their time, though, was spent on a safari in Tanzania.

Much of the safari consisted of visiting national parks, including Lake Manyara, Serengeti, and Arusha. Park management spoke to the group at each stop. For instance, a lion researcher spoke with Ainsley's group on his findings.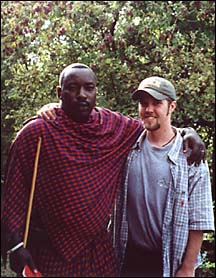 In the Serengeti National Park, the group observed a long list of wildlife. Zebras, lions, giraffes, elephants, leopards, cheetahs, and hyenas were all in full view. They even saw a highly endangered black rhinoceros mother and her calf.
Sam Ainsley stands with a member of the Maasai tribe.
"We saw basically everything. We got within ten feet of the lions," said Ainsley.
They also saw Ngorangoro Crater, a collapsed volcano where the oldest ancestral man's footprints are believed to be located. There, a large amount of wildlife roamed as well.
One day, Ainsley and a few of his friends were talking to people of the Maasai tribe. The discussion led Ainsley and friends to ask the people if they could drink milk and blood with them. The Maasai people agreed.
With permission from the group leader, the five young men gave up the game drive the rest of the group did to participate in a memorable experience at the Maasai village.
They watched village men suffocate a goat, then open its thoracic cavity to let the blood pool. Next, they put the blood in a pot of water, along with medicinal roots, organs, and fat. They also roasted the heart and liver on a stick.
"They say it gives you the power of the lion," explained Ainsley, who said all five students ate the ritual dinner. "You could definitely taste the blood and the medicinal qualities, but it wasn't bad."
Afterwards the Maasai people danced and sang. "It was pretty cool," said Ainsley.
"I liked everything about (the trip)," Ainsley added. "There was no favorite part. It was all good."
On the plane ride home, Ainsley had to write a paper about his experience to receive credit for it. He chose to write about the similarities and differences between American and African park systems, the wildlife and ecology of the area he visited, and the Maasai experience.
Mueller's field course
Mueller traveled between May 15 and June 11. His group consisted of 14 students and two professors.
"I felt Africa was the one experience I hadn't had yet in my life," said Mueller, of his decision to travel to Tanzania. He had previously traveled in the United States and Europe.
Mueller's group began their travels through interactions with the Maasai people for a week. The Maasai showed them their homes and told them about traditional culture and medicines.
"The people are very hospitable," said Mueller. "They are a very content people. They take great pride in who they are, their spirit. It's amazing."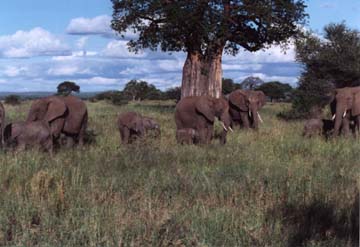 The next two weeks were spent traveling from park to park to do field studies on wildlife through game drives. They watched the animals' movements, group behavior, and migration. They also attended lectures by park workers.
Mueller's focus during this time was elephants. He wrote down his observations in a journal, including mannerisms in general and detailed accounts of the elephants' behaviors. His information will eventually result in a 15- to 20- page paper.
"The professor didn't want it to be a vacation," said Mueller. "He wanted it to be a field study and wanted us to have the mind set of biologists."
Following the field study, the group visited primary and secondary schools of the Maasai people. One of the secondary schools was for girls who had been specially selected. They toured the facilities, observed classes, and played net ball with the students.
Because English is taught in the secondary schools, Mueller's group was able to talk to some of the people, who were curious about life in the United States.
"They are a very friendly people," he said. "If we were driving or walking, the kids would run up to us, wave, or give us a high five."
Mueller said the trip opened up possibilities for future work and travel. "I definitely recommend traveling to Africa," he said.
---