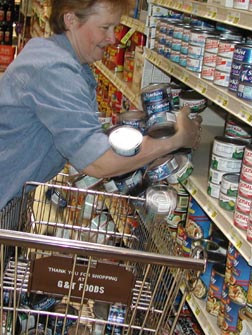 Local resident Amy Flanders had 70 seconds last week to fill two shopping carts with food, courtesy of Farmers and Merchants State Bank.

Flanders won a promotional contest that the bank intends to make an annual event. From June 1 to 22, the bank gave its customers a chance at the shopping spree for each purchase they made with their debit card.

Amy Flanders had a 70-second shopping spree at Wally's G & T last Wednesday, sponsored by Farmers and Merchants State Bank. She got $483.10 worth of groceries, mostly canned foods, in her cart during that time. She donated half her winnings to the area food shelf.

The high temperature on the first day of summer was used to determine how long the shopping spree lasted. The temperature that day was only in the 60s, which the bank rounded up to 70 seconds.

Flanders, who had her choice of the two local grocery stores in town, had a chance to scope out Wally's G & T before her shopping spree last Wednesday. Her strategy was to load up on the canned meats, fruits, and vegetables, in part because they were easy to drop in her cart and also because she donated half her winnings to the food shelf at the Community Service Center.

"I figured it'd be best if I concentrated my time," Flanders said of her plan to grab canned foods.

The time went really fast, Flanders admitted after the event. "I was planning to go to the cereal aisle, but I didn't get that far," she said. She did manage to grab four hams before her time was up.

In all, Flanders had $483.10 worth of groceries in two carts, one full of canned foods and the other with just the four hams. "That's a little bit more than my usual bill," quipped Flanders at the checkout. The spree was exhausting, a little stressful, and fun, she told bank president Joe Spaulding afterwards.

Spaulding said the bank plans to run the promotion from Memorial Day to Labor Day next summer, with the shopping spree in September. That way, a warmer day in July or August can be used for a high temperature.
---
Contact the author at paypress@lkdllink.net • Return to News Menu
Home | Marketplace | Community
---