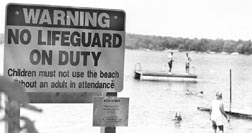 With temperatures soaring in the 90s last week, area residents headed to the city beach on Lake Koronis to cool off. As usual, teenagers laid out in the sun and visited with friends on the raft, and young children jumped off the docks or played in the sand.

While swimming at the beach was popular on hot days last week, the public needs to remember that lifeguards are not on duty this summer.

The only thing different at the beach this year is no lifeguards are on duty. Because of a lack of lifeguards, the city decided in January not to hire lifeguards this summer.

Signs are posted in the parking lot and on the beach warning parents and swimmers that no lifeguards are on duty.

Ron Mergen, interim city administrator, said the city hasn't received any complaints about the lack of lifeguards.

A public beach has been located in this bay for at least 70 years. At one time the beach was located north of Van's Beach Store. Over a quarter of a century ago, the city purchased the land on the other side of the resort where the beach and park are now located.

Lifeguards, hired by the city, have worked at the beach since at least the early 1950s. Lifeguards taught swimming lessons at Lake Koronis until 1992, when lessons were moved indoors to Rocori High School in Cold Spring.

In a tight labor market, the city could not guarantee hours to lifeguards. Lifeguards lost working time when it rained or if the weather got cold. Many lifeguards held two jobs, making scheduling difficult, Mergen said.

"It's sad that there are no lifeguards at the beach," said Karlene Gray, a mother of two and a former lifeguard at the beach. She can recall when the city had six lifeguards to staff the beach in the late 1980s.

Without lifeguards, Gray would not leave her young children unattended at the beach.

Gloria Dahlke, Paynesville, also won't let her elementary age children swim at the beach without a lifeguard. "It's nice to know that there is somebody there keeping an eye on them," she said. Even when a lifeguard was on duty, she preferred her children to be supervised by an adult as well.

Many parents of teenagers hope their kids are responsible enough to enjoy the beach without a lifeguard on duty. John and Sue Teicher, Paynesville, allow their 16-year-old son to ride his bicycle out to the lake to swim with friends. Sue did say she would feel better about her son being at the lake if a lifeguard were on duty.
---
Contact the author at paypress@lkdllink.net • Return to News Menu
Home | Marketplace | Community
---