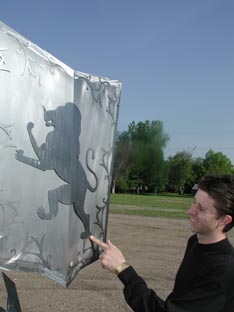 Nearly everyone can remember visiting a town and being greeted by a statue of Paul Bunyan, a giant plastic walleye, or even a massive Viking. In Olivia, the self-proclaimed corn capitol of the country, it's a gigantic cob of corn.

John Ludwig has admired this type of art since he was small. "I like that. It adds character to the town," he explained. "I think there should be more of that, and I'm going to do what I can about that in the rest of my life."

John Ludwig carefully created the details of his steel sculpture. He used a Ludwig coat of arms for the shield, laser cutting the pieces of the design.

Only John isn't interested in making plastic, wood, or stone sculptures; he uses steel. This past winter, using 650 pounds of steel, he created an eight-foot tall gladiator, whose sword reaches almost 13 feet in the air.

A few years ago, John visited Dallas, Texas, and was inspired by Pioneer Park, which features three dozen bronze cattle in a mock cattle drive complete with cowboys. He wasn't interested in cattle or bronze, but appreciated the art and decided to try with his own medium: steel.

Last year, he designed and built a six-foot tall dragon, using 65 pieces, including 22 in the tail alone. This project took him a month to design and a month to build. "I planned on throwing (this) away, but it looked so cool I couldn't," he said.

His dragon, though, was welded throughout, which left it immobile and looking stiff. So when John went to the drawing board to build his gladiator, mobility was a goal.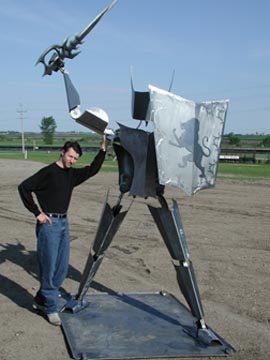 He started designing his gladiator Ð named Proto for prototype Ð in January, started building it in March, and finished in late May. "It was a lot of work. I had to design and redesign. Every time I wasn't at work I was working on this," he said.
Ludwig, who works at Louis Industries in Paynesville, used the laser there to cut the pieces he needed and used other machinery at the manufacturing shop to roll and bend the steel as needed.
Ludwig assembled his industrial art sculpture at his father's garage in Roscoe. "From the way I designed it, there were very few things I had to change," he said.
To make the statue lifelike, John measured his body parts as a basis for making the parts of his gladiator. "I took all the dimensions off me and multiplied by 1.333," he explained. Since John is 6' 3" tall, the gladiator turned out to be over eight feet in height.
The front of the gladiator is armored, with the various pads in view. From the back, the steel fighter's muscles are apparent, though it's up to the viewer to decide if these are actually muscles or armor fitted to the muscles.
John took the care to add miniscule details like abdominal muscles in the stomach and lumbars on the spine. He also took care on the shield, cutting out a Ludwig coat of arms design on the laser cutter at work. "I thought if I'm going to do a shield I might as well have a Ludwig coat of arms," he said.
Other details are left to the imagination. "You can't take pieces of sheet metal and make it lifelike," said John.
"I wanted to make it very original," he explained. "Here you put the main features on, and your mind fills in the rest."
He also made sure that Proto is mobile, unlike his first dragon, which couldn't. John feels this made the dragon look unnatural. Every joint of the human body has a matching gear on the gladiator. For back-and-forth motions like the knee, Ludwig used one gear. But for joints with a full range of motion Ð like the hips Ð Ludwig used three gears to mimic the three-dimensional movement of the human joint.
This mobility allows Ludwig to vary the position of his gladiator, though this requires disassembling the sculpture and reassembling it. By having a full range of motion, he can make sure that the position of the arms, head, legs, and even the feet is natural. "The position has to look right," he said. "It has to look normal."
The gladiator can stand, kneel, or sit without any support, giving it the impression of being under its own power. "If you don't have balance, it wouldn't look normal," explained John.
John also did plug welding during construction to hide all the welds. No welds are visible on the gladiator. "I don't want people to look at the welds," said John. "I want them to look at the design, the structure."
Right now, John is undecided about where to put his latest creation permanently. It has spent most of its time in his father's garage in Roscoe. He would prefer it find an outdoor home, maybe in a public park.
John got hooked on medieval characters when he attended the Renaissance Festival a few years ago. He would like to make more: a centaur, a gargoyle, and Merlin. Using fantasy creatures and an artistic style forces people to use their imagination while looking at the sculpture, Ludwig feels.
In addition to possibly contracting to do some steel sculptures in the future, John plans to build some creatures for the backyard of the Hawick prairie house that he shares with his newlywed bride, Julie.
---
Contact the author at paypress@lkdllink.net • Return to News Menu
Home | Marketplace | Community
---