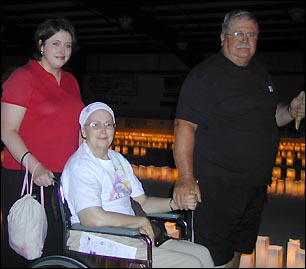 The fifth annual Relay for Life in eastern Stearns County raised $86,000 for the fight against cancer and attracted a crowd of 800 people to hear testimonials from cancer survivors, including several from the Paynesville area.

The Relay for Life was held on Friday, June 21, to Saturday, June 22, at the River Lakes Civic Arena in Richmond. The fundraising event was moved from the Rocori football field due to the rain.

The event was made up of three ceremonies: opening, luminary and closing ceremonies. The event began at 6 p.m. on Friday evening with Kurt Hemmesch, a native of Paynesville, as emcee. "Why would we not want to help such a wonderful nonprofit organization like the American Cancer Society, which does so much for our community?" explained Hemmesch, who lost his father to cancer.

Cancer survivors made the first lap around the arena during the opening ceremony.

During the the luminary ceremony, 2,900 luminary bags illuminated the arena. The luminary bags are decorated to honor a cancer survivor or in memory of a person who lost their battle to cancer. After the luminary walk, all other team members joined in the walk, by circling the illuminated bags.

Lorraine Skrypek (pictured above left with her daughter Suzanne and husband, Don) of Paynesville was the honorary torch carrier during the inspirational ceremony as the luminary bags were lit. In the middle, the bags spelled out "HOPE."

Paul Thielen of Paynesville gave an emotional talk about his four-year-old daughter, Alexis, who has already gone through over 25 surgeries and had 45 blood transfusions in her battle with leukemia. His heart fell to his feet when the doctors told him his daughter had acute Leukemia, he said. It was "a moment in time, when time stood still, when I realized that children do die," he explained.

The luminary ceremony started at 10 p.m. on Friday, and the Relay for Life ended at 5 a.m. on Saturday morning. The event raised $86,000, slightly below the committee's goal of $89,000.

This year 34 teams participated with nine teams coming from the Paynesville area. Relay teams are made up of 10 to 13 people, with a team captain and a sponsor. All team members that raised over $100 received a memorable T-shirt.

Lucille Lieser of Paynesville, a breast cancer survivor, recommended everyone, both male and female, get screening every year. "You need to catch it, before it catches you," she said during the walk. "You cannot be stubborn and think it can't happen to you."

"The money raised for the American Cancer Society can benefit our community both directly and indirectly," said Jessica Butterfass, who has co-chaired this event for five years with Terri Larison

"Indirectly by applying for grant research for medication such as tamoxifen, radiation and chemotherapy," said Butterfass "Directly by providing supplies like wigs and funding for navigators."

According to Butterfass, navigators are trained staffed by the American Cancer Society to support, inform, and guide community resources.

This years committee members included Linda Athmann, Sandy Dwyer, Steph Malingan, Mona Torborg, Joni Olmschied, Arnie Olmscheid, Hemmesch, Barb Yogerst-Staff, Lynn Feldhege, Dennis Bauer, and Shirley Rausch.
---
Contact the author at paypress@lkdllink.net • Return to News Menu
Home | Marketplace | Community
---