The ancient texts at Balamand University in Tripoli, Lebanon, are kept behind glass in a back storeroom, off limits to the public.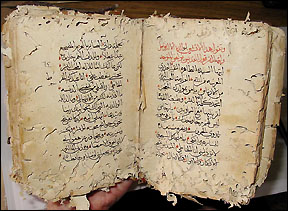 But the Hill Monastic Manuscript Library at St. John's University wants to make these books, some of which date back to the 10th Century, available to the public. Since these rare books will never leave the room where they are carefully stored, the Hill Monastic Manuscript Library had to go to Lebanon to copy the books. Only instead of using microfilm, they are digitizing these rare books, thanks to ColorMax of Paynesville.
"They have a desire and a mission to prevent these rare documents from disappearing from the face of the earth," said Wayne Torborg, ColorMax's photographer who spent a week in Lebanon in April for this preservation project. "These are important documents in the history of the early church. They are located in monasteries all over the world, some of them in places that are not politically stable."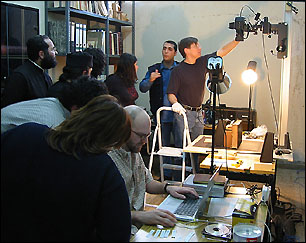 ColorMax developed a mobile digital photographic studio and sent Torborg, who has worked as their digital photographer for five and a half years, over to Lebanon to set it up and train a local professional photographer and university personnel how to use it. Torborg also wrote a 30-page instruction book during the week he spent there.
Wayne Torborg adjusts the camera in the digital photography studio that ColorMax set up at Balamand University (left).
ColorMax has a relationship with the Hill Monastic Manuscript Library because ColorMax is digitally reproducing the St. John's Bible, a hand-written Bible commissioned by St. John's. That Bible is being calligraphed in Wales and then finished pages are brought to Minnesota, with stops at ColorMax to be digitally photographed, archived, and reproduced.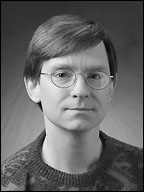 But many rare documents and books will never be brought to Minnesota for digital reproduction. "The books aren't coming here because they are far too precious and too delicate," explained Torborg. "In many cases, they need to be kept in a controlled environment."
Like the glass cases at Balamand. Torborg brought everything needed for the digital studio, 70 items from cameras and computers to scissors and tape. They also brought a special stand to hold the spine of the book while placing the page to be photographed as perfectly horizontal as possible.
All the gear they carried left little room for personal things. Everything arrived fine, except for the camera, which was broken, prompting a 50-mile trip to Beirut to purchase a used replacement. Trying to buy a used camera in a country where negotiation is a national sport was a real challenge, fit for April Fool's Day, said Torborg.
Delicately handling each page with white cotton gloves, they could photograph about 20 pages per hour.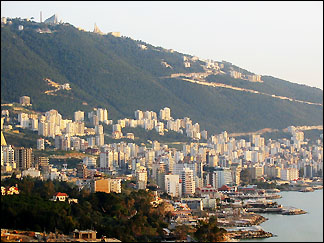 Beirut is still half shot up from 15 years of civil war, but parts have been rebuilt and are brand new, said Torborg. The unrest in Lebanon from 1975-1991 makes the digital preservation of these early church documents even more important, said Torborg.
Beirut still bears scars from 15 years of civil war (1975-1991). Ancient religious texts are scattered in monastaries throughout Lebanon, and preserving them and making them available to the public is the goal of the Hill Monastic Manuscript Library at St. John's University.
Balamand University has a theological school for the Greek Orthodox church. The ancient church there was built during the crusades, and the theological school has 170 ancient books, dating back to the 10th and 11th centuries.
The books - religious texts, prayer books, histories, and liturgical texts - are in Greek, Syriac (an ancient language), and Arabic.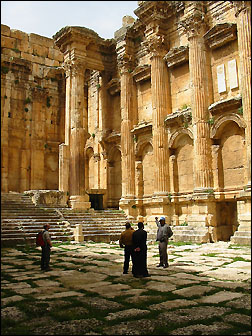 During the week he was at Balamand - along with Father Columba Stewart, a theology professor at St. John's University School of Theology and another contractor specializing in web design - Torborg also got to greet lots of visitors to the project site. The goal of the Hill Monastic Manuscript Library is to preserve not just the pages at Balamand but others in Lebanon, and this involved showing the technology to others who have ancient texts.
Wayne Torborg mostly worked during his week-long trip to Lebanon, but did spend one day touring the Roman ruins at Baalbek.
"It's a huge project. It's going to take years," said Torborg of digital preservation. "That's the bad news. There are millions of books. How are we going to do this? The good news is that the technology to do this gets better all the time."
"The idea is to make the documents more available. Really the only way to see them now is go to the place and get permission to see them," said Torborg.
Though his family was worried about him going to the Middle East, especially with the United States at war with Iraq, Torborg said the Lebanese people were nothing but polite to him and he was treated nicely and politely by all.
No one asked him about the war in Iraq, though he did notice a large difference between Al-Jazeera and Fox News and CNN. The Arab satellite network focused much more on wounded Iraqis and civilian destruction, said Torborg.
Most of the trip was work for Torborg, who did get to visit ancient Roman ruins at Heliopolis in Baalbek for one day before returning to Minnesota.
---
Contact the author at editor@paynesvillepress.com • Return to News Menu
Home | Marketplace | Community
---