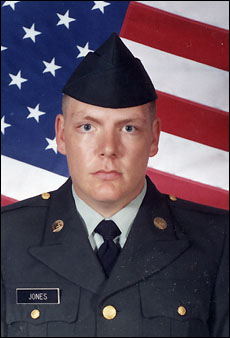 Hearing that some members of the United Methodist Church of Hawick think of her son, Philip, the first thing every morning while he is in Iraq gives Barb Jones comfort.

Philip Jones, of Hawick, left for Iraq with his National Guard unit in mid-April. The mission of the 244th Engineering Battalion is to help rebuild Iraq.

When his son left for the Middle East, Don Jones hoped most of the shooting was over, but since the war ended 12 American servicemen have died, most at the hands of snipers. According to Philip, even engineers aren't safe now.

"The unit's rules of engagement have changed a lot since Philip got to Tikrit," said Barb. In the beginning, soldiers were only allowed to fire at Iraqi nationals who were actually shooting at them. Now, soldiers can do what is necessary to keep armed Iraqis from using their weapons.

"I think they are well trained and can protect themselves and each other as long as they remember they are not an army of one. They need to work as a group," said Don, who served in the Army during the Korean War.

Since arriving in Iraq, Philip, a carpenter, has qualified as a driver of a troop transport truck. He likes driving better than riding in the truck, he said, because now he can see any danger the troops may face instead of being surprised by it.

Currently, Philip, a 2000 graduate of Paynesville Area High School, is in Tikrit, rebuilding an old air force base that American soldiers call home.

According to Barb, Philip referred to the area as a "hell hole." The land is barren and dirt stretches for miles. The heat is almost unbearable, he said, especially for men and women who have to wear protective gear at all times. Soldiers travel only at night because their trucks can't handle the unrelenting daytime heat.

Still her son is proud to be there, said Barb. The unit begins work very early each day so they can finish before the mid-day heat strikes. It's after-work time that gets him down, said his mother. Boredom is starting to wear on the troops, she added.

To help defeat boredom, Philip and his friends built a smoking area, complete with a picket fence and other touches of home, where men and women of several units can meet, whether they smoke or not. Barb thinks the comaradrie will be important in helping troops defeat boredom.

Philip joined the National Guards between his junior and senior years of high school. After graduating from high school and attending an Army training school for carpenters, he enrolled at Ridgewater College in Hutchinson where he planned to work on becoming an electrical engineer. He had only three weeks of school left this year when he shipped out.

"Philip always talked about joining the Guards. He wants to stay for 20 years," said Barb. Her son likes military life; he likes being in the fellowship of other guys, she said. "When he has a uniform on, he walks differently," she added. "Straight and very proud."

Philip may be home in a few months. He recently became engaged, he has at least two years of school left, and he still plans to stay in the military.

Of course, Barb wants her only son home now. "Sometimes war is the only answer, there's no other choice," she said. She's firm in her faith that Philip is doing what he needs to do, and she believes he will be proud of the fact that he had a hand in rebuilding Iraq.

In the meantime, Barb reminds herself that he is only a prayer away.
---
Contact the author at editor@paynesvillepress.com • Return to News Menu
Home | Marketplace | Community
---