Jeri Meyer knew what she was in for when she had her left knee replaced at the Paynesville Area Health Care System in June. Meyer - who worked for 25 years as a night nurse at the local hospital and another 15 years on the hard floors at a car dealership - had her right knee replaced eight years ago.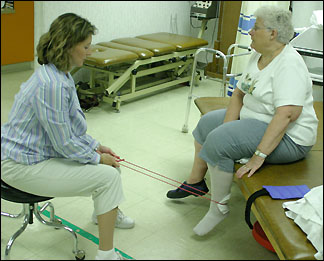 "You tend to wear them out," she said, "because you use them so hard."
Meyer was the second patient to undergo knee replacement surgery at PAHCS, which just started doing this procedure this spring, after its new operating room opened.
Knee replacements at PAHCS have "gone very well," said Bev Mueller, acute care administrator for PAHCS. "The staff has done a wonderful job."
So wonderful, said Mueller, that the representative for the artificial knee manufacturer told her that you would never know PAHCS was just starting doing knee replacements.
Dr. Steve Mulawka, the orthopedic surgeon who performs knee replacements at PAHCS, agrees, saying that a casual observer could not tell if the procedure was being done at PAHCS or at the St. Cloud Hospital.
Mueller has thought about doing knee replacements at PAHCS since her own mother had both her knees replaced two years ago. Mueller saw what was involved and knew that the staff at PAHCS could handle it.
What it required was Dr. Mulawka being willing to do the procedures here, and building a new operating room to handle the necessary equipment, which was done in the latest remodeling project at PAHCS.
The new operating room is larger and has special equipment for orthopedic surgeries. First and foremost, a special air handling system pushes air down and out of the room and keeps germs, bacteria, and dust away from the patient. Surgical personnel also wear astronaut-like helmets with special exhaust to avoid infecting patients.
Knee replacements require cutting both the femur and the tibia, and then putting a new knee joint between them. Since bone infections are so serious, it is critically important to minimize the chances for infection, said Dr. Mulawka.
The new operating room opened in March, and Dr. Mulawka did his first knee at PAHCS in May. He did his third knee at PAHCS last week, and the fourth is already scheduled.
"As the hospital grows so is the ability to do more things. It's no different from any other business. You start doing some things, and you add things as you go," explained Dr. Mulawka, an orthopedic surgeon with St. Cloud Orthopedics who specializes in knees and shoulders, who has been coming to PAHCS to conduct outreach clinics for 12 years. During that time he has treated rotator cuffs and carpal tunnel and scoped knees and shoulders, all as outpatient procedures.
Doing a knee replacement at PAHCS was much nicer than going to the Twin Cities like she did last time, said Meyer, because she knows the staff and is close to home.
Mueller is thankful that Dr. Mulawka was willing to do knee replacements at PAHCS. In effect, he has traded driving time for the patient and the patient's family for his own. Before Dr. Mulawka came to PAHCS only one day a week and did knee replacement surgeries in St. Cloud. Now, if he does a surgery at PAHCS, he will come to Paynesville three times in one week: one day for surgery, the next day to see the patient post-surgery, and on Thursday again for his regular turn in the outreach clinic.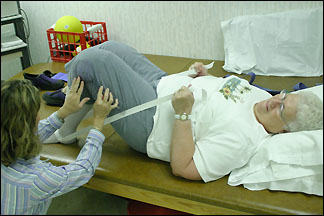 "Without him, we couldn't do it," said Mueller.
Knee replacements are warranted when a patient has no cartilage left in their knee and bone rubs on bone, said Dr. Mulawka. This type of condition can be hereditary (someone who is bow-legged or knock-kneed, causing the knee to wear); can result from injury; can be related to obesity; and can result from an occupation that involves lots of kneeling or squatting (like milking).
Meyer lost the stability in her knees, causing her to turn to knee replacement surgery. She wore a brace on her right knee for three years before having it replaced eight years ago and wore a brace on her left knee for six months before having it replaced in June.
With the stability of a new knee, Meyer hopes to return to a normal life. If you can't trust your knees to keep you standing or if the pain is too much, you pretty much sit in a chair, she said.
Dr. Mulawka treats mild and moderate cases of arthritis in the knee by injecting lubricants or scoping the knee to remove loose bodies. Only the severest cases warrant knee replacement, he said.
Knee-replacement surgery typically takes around three hours with recovery. Patients are given a day to recover, but the next day their new knee starts to get moved with a Continuous Passive Motion machine.
Recovery time in the hospital is typically four days, by which time patients are walking again. Depending on the amount of help at home and other conditions, if the patient is ready, they can go home after four days in the hospital. Patients with fragile health or issues at home may spend several weeks either in a nursing home or in a swing bed in the hospital.
(Occupational therapy at PAHCS makes a home visit to assess the home situation for each patient before a knee replacement surgery.)
Doing knees took team effort, said Dr. Mulawka and Mueller, from nursing to rehabilitation to pharmacy and purchasing. Nurses went to the St. Cloud Hospital to learn the protocols and watch some operations, and one nurse actually scrubbed for a knee replacement surgery there. Mueller said it was very kind for the St. Cloud Hospital to be so cooperative and helped establish consistency between the two staffs for Dr. Mulawka in the operating rooms.
Lots of patients have used the local rehab department to help after knee replacement surgery. The difference is now the local rehab department sees patients during their first four days in the hospital, said Tim Lane, head of the rehab department at PAHCS. During this acute phase, the staff uses the Continuous Passive Motion machine and gets the patient up to walk. (Rehab staff also visited the St. Cloud Hospital and learned their protocols.)
During the hospital stay, patients rehab twice per day. The goal is to get them out of bed, have them be able to use their crutches or walkers, and to know what exercises they should do at home, said Lane. The sooner people start to move, the better the results, said Lane, whose department uses the motto: no pain, no gain.
Meyer said the surgery is nothing compared to the rehab, but the rehab is crucial. "If you don't work at it, you won't get the mobility back. Then you get a funny stance, and you walk funny," she said.
Patients who go home typically start having rehab three times a week, plus they must do exercises on their own at home. That schedule tapers, depending on the patient's progress, to twice a week and then once a week. Rehab can take up to three months after surgery.
---
Contact the author at editor@paynesvillepress.com • Return to News Menu
Home | Marketplace | Community
---