Stephanie retires from fire department
This article submitted by Aaron Ziemer on 6/30/98.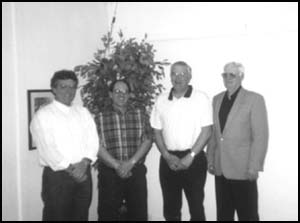 Joe Stephanie retired from the Paynesville Fire Department after 23 years.

While on the fire department, Stephanie served as the secretary of the relief association.

During his 23 years of volunteer work as a fireman, Stephanie saw many things and was involved in many emergency situations.

Stephanie also talks about the guys he worked with at the fire department. ďThey are a good bunch of guys,Ē said Stephanie. ďIt is a very important service, but they made it a lot of fun.Ē

Stephanie says there is a lot of training that goes into being a fireman and it is a lot of hard work. He added because of the hard work it takes and the amount of time it takes, it is hard to find guys to join a volunteer fire squad. Most fire departments consist of volunteers.

ďIt is a team effort. Everyone works together, no need to tell people what to do, they just do it,Ē said Stephanie.

The work is very tough according to Stephanie. He said it is not for everyone, and that is a very individual decision whether or not to join a fire squad.

There are only a couple paid departments around the state. Most departments are volunteer squads. Some squads may have four to five paid people with the rest volunteers. But it is becoming harder to find people to join the fire squads.

ďIt is one of those things that people take for granted that it will always be there,Ē said Stephanie.
---