PHS marching band earns honors in two parades last week
This article submitted by Linda Stelling on 6/30/98.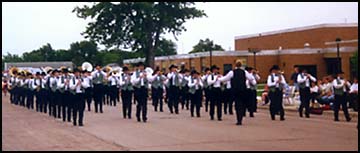 Bryan Mara, director of the Paynesville Area High School Marching Band, has a lot to be proud of.

In the bands first year of marching, they have earned honors in three of five parades.

In the Benson parade, early in June, they placed third in their first competition.

Last week, the band took second in Class A competition in both the Foley and Willmar parades. The color guard earned third place honors in the Foley parade.

ďIím really excited for the band members,Ē Mara said. ďWeíve broken the ice on the band circuit where there has been a lot of tradition established by marching bands.Ē

ďThe Paynesville band members went from square one learning all the basics of marching this year,Ē Mara added. ďIn Winnipeg, the band members made a commitment to be there and they marched in 50 degree rainy weather. We considered that parade a learning experience.Ē

Janel Schefers, drum major, said the experience this summer has been incredible. ďI didnít think weíd place right away. The band has a lot of potential. We have been beating a lot of bands who have been around for years in the marching circuit.

ďThe band has an awesome start in marching and, hopefully, it will snowball and continue. The competition has been tough this year and everyone was pumped for the challenge. In Foley there were 21 bands and we walked away with two of the 18 awards presented.

Schefers, a graduating senior, said Mara asked for a commitment from 75 band students or the band wouldnít march. He received a commitment from 85 students.

Bridget Mueller, a junior next year, is the drumline captain. ďThe band didnít think we could win in our first year of marching,Ē she said. ďIt feels great to know we can beat the larger, experienced bands. The band has a lot of potential and next year we are going to push for the opportunity to march in more parades.Ē

Krysta Larson, color guard captain and a junior next year, said they were in shock when it was announced they won third place in Foley. ďEverybody was jumping up and down at the news, we were so happy,Ē she added.

There are 11 girls in the color guard unit. They practiced intensely during their spat camp at the high school prior to the start of the marching band season and have been practicing 45 minutes before each parade.

ďWe all love doing the color guard as it is something different,Ē she added.

For complete marching band results, check www.marching.com.
---