Fire department buys infrared imaging system
This article submitted by Linda Stelling on 6/30/98.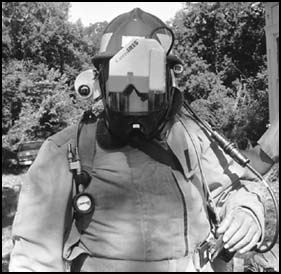 The room was filled with smoke and a person couldnít see where they were headed. With the aid of a CairnsIRIS Infrared Imaging System, the Paynesville firemen could make out objects.

The windows of an old empty Paynesville Township house were boarded up to retain as much smoke as possible.

Several Paynesville firemen had completed a classroom course on the CairnsIRIS Infrared Imaging System Saturday afternoon. Sunday morning they were going to put the CairnsIRIS to work and learn how to use the system.

Two local firemen entered the house wearing the CairnsIRIS unit with the instructor. Six firemen rotated, taking turns going into the house every 20 minutes, using the units. The firemen coming out of the house said a person has to believe in what they see through the unit. The comments on how their depth perceptions were off as the unit is mounted on the side of their helmet not in front of them.

The Paynesville Area Fire Department started a fund raising campaign in September of 1997 to raise $25,000 for the system which would help them find victims in smoke filled buildings or lost people in tall grass or cornfields.

Dave DeWall, a Minneapolis firefighter, led the classroom session and field demonstration.

The intent of the CairnsIRIS system is to allow firemen to be able to perform rapid, effective searches in buildings ranging from high rise apartments and hotel structures down to single-family dwellings and in locating and surpressing fires faster with less property damage.

The application of the system in searches for missing people on land is just now beginning to be explored more by the users, Jeff Ruprecht, Paynesville Fire Department training officer, said.

The CairnsIRIS Infrared Imaging System is a camera mounted on a firefighterís helmet. It relies on a heat-sensing, ceramic chip. The sensor responds to infrared energy, generating electrical signals which are processed and converted to create a video image.

CairnsIRIS Infrared Imaging System is capable of detecting temperature differences as small as 0.5 degrees. As a result, people and objects can be recognized faster for critical savings in search time.

The CairnsIRIS system allows a firefighter to ďseeĒ through smoke and will enhance their ability in search and rescue, fire suppression, hazardous material as well as adding a high degree of safety in standard training operations.

Jim Freilinger, Paynesville fire chief, said they have started to receive funds from various people and businesses for a second unit.
---