While his baseball teams have enjoyed success on the field, baseball coach Brad Skoglund was honored for his leadership on and off the field by winning the annual Ruth Aulick Award.

"His constant friendliness, his postitive attitude, and his great personal caring for his students makes him a great success at both teaching and coaching," stated one of his three nominators for the award.

The Ruth Aulick Award honors a Paynesville community member for their outstanding volunteer work and service to the community. The Paynesville Human Rights Commission started the award in 1998, giving the inaugural award to Ruth Aulick, the founder of the Paynesville Community Service Center.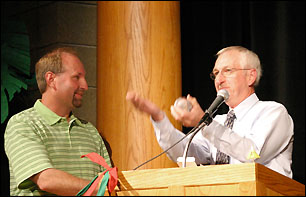 Other past winners of the award were Marie Lauer in 1999; Don Torbenson in 2000; Katherine Halvorson in 2001; Marlys Pearson in 2002; and Maurice Dosdall in 2003. Skoglund said he was very surprised to get the award. "It's a very nice award," he said. "I feel very honored."
Sig Pfeifer of the Paynesville Human Rights Commission urges a standing ovation for Brad Skoglund as he receives the Ruth Aulick Award at the Miss Paynesville Pageant on Monday, June 21.
Skoglund's three nominators cited his work with youth and especially his compassion towards special needs kids. For years, a batboy - usually someone with a disability or physical handicap - has been a crucial part of his school teams. "Watching a team from the bleachers and being a part of the team in the dugout are two very different experiences," wrote one nominator. "Brad has given these boys a lifetime of memories."
"Children of all ages just want a place to fit in, a chance to feel successful. Children with special needs are no different," wrote another. Brad feels that his managers are an important part of the team. "They really help the success of our team," he said. Seeing how these guys don't take anything for granted shows the players not to be selfish and to just enjoy life, he added. Skoglund takes pride in his team, especially in their attitudes and discipline on and off of the baseball field. One of his nominators mentioned the many times that Skoglund's team has won sportsmanship awards in addition to their performance on the field.
Skoglund has taught at Paynesville Area High School for 19 years and has been the head baseball coach for 18 years. He has led the team to six conference championships, one state appearance, and four subsection titles. He also coaches American Legion baseball in the summer and has led the boys to four state appearances.
Skoglund, a 1978 graduate of Willmar High School, attended Willmar Community College (now Ridgewater) and transferred to Southwest State University where he graduated from in 1983. He played college baseball, was drafted by the Minnesota Twins, and played in the minor leagues for one year. Skoglund and his wife Terry have lived in Paynesville for 17 years. They love the people and the community, according to Brad. He also loves coaching and teaching, he said. His passion for both can be seen inside the school, where for Halloween he dressed like a clown and handed out candy, and out on the baseball field, where he spends hours upon hours coaching.
According to one of his nominators, "Behind every great man is a great woman and Terry fits the bill." Terry has been very supportive through thick and thin helping with baseball and taking care of the team. She has a very positive attitud; she's like a mother to the players, Brad said. "She deserves the award just as much as I do," he added.
The Skoglunds also have two daughters, Jackie and Lexie, who enjoy attending baseball games and helping in whatever ways possible. "The girls have taught me patience," Brad said. "They have made me a better teacher and coach," he added. Through his girls, Brad feels he has come to understand more of what kids go through, which helps him in the classroom and on the field.
Another reason why this award was so special, Brad said, was because he found out about it three years to the day after his parents were killed.
Skoglund said his positive outlook on life undoubtedly came from his mother. "She was tremendous, just a great support and always so positive," he said.
Through his experience with his parents' death, Brad also feels he has learned that people can't control much, but they can control their attitude. "I could have chosen to be bitter and negative about the whole deal, but I didn't," he said. Skoglund thanks those who nominated him. "A lot of other people in the community are very deserving, too," he said. "We have a great town."
Skoglund said he feels fortunate to live in such a great community. The Skoglunds have no plans to leave Paynesville any time soon. "I love it here. I'm a Bulldog. I bleed green," he said.
---
Contact the author at editor@paynesvillepress.com • Return to News Menu
Home | Marketplace | Community
---