During the opening prayer of Paynesville's second annual Relay For Life, Pastor Jeff Bergman of Paynesville Lutheran Church spoke of how no one can run a relay alone. Participants must pass the baton and share the journey, he continued.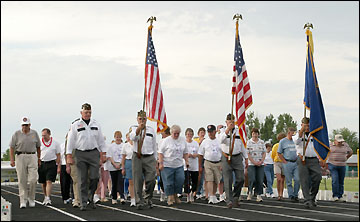 On Friday, cancer survivors gathered - along with family and friends - to share the journey. By journeying around the high school track, they raised money for the American Cancer Society, which strives to find a cure for cancer and to improve the quality of life for those affected by the disease.
Paynesville American Legion color guard members led a group of 60 cancer survivors in the first lap of the Relay for Life Friday evening.
Over $64,000 was raised in connection with the event, which is $17,000 more than the total from last year's event. Much of the money was raised by nearly 300 people participating on 19 teams. Fundraising by the top team was over $6,500, with seven additional teams raising more than $2,500. Twelve participants were recognized for raising at least $1,000 individually.
Participants spent much of the event - which lasted 12 hours, from Friday evening to Saturday morning - walking laps around the track. More than 2100 luminaria, which are paper bags decorated in remembrance of cancer victims and in honor of cancer survivors, lined the edges of the track. They contained candles that were lit during a ceremony following nightfall and continued to burn throughout the night.
Ceremonies at the event celebrated cancer survivors, and 60 of them participated in a special survivor lap that officially started the walking.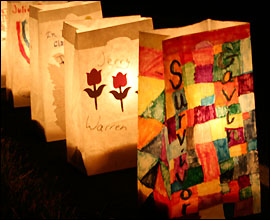 Survivors also shared their cancer stories, including Jen Bergstrom, who has been cancer free since December. She encouraged hope during the opening ceremony. "I look at my daughter, who I want to see grow into a woman. That is worth fighting for," said Bergstrom.
Luminarias - candle-lit paper bags - circled the PAHS track for the Relay for Life which honored cancer victims.
Janet Flanders, both an oncology patient and nurse, spoke during the lighting ceremony, focusing on the importance of taking time to stay healthy.
Marlene Athmann, who helped lead the organizing committee, praised the effort of those involved, saying "all of you gave 100 percent."
The American Cancer Society has been holding Relays For Life for 20 years, since a surgeon from Washington organized the first one in 1985. This year, more than three million people will participate in events in the U.S. and in over 20 countries.
As she expressed her appreciation for Relay For Life, Flanders said that the support given at the event shows that "cancer's not the worst thing that can happen to you," and provides hope to cancer patients and to their friends and families.
---
Contact the author at editor@paynesvillepress.com • Return to News Menu
Home | Marketplace | Community
---