When the youngest of her seven children graduated, Judy McCoy wanted a part-time position to keep her occupied. She took the first secretarial position that St. Louis Catholic Church ever created: a two-days-per-week opening that has now doubled to four days per week.

After 18 years as a secretary and bookkeeper for the church, McCoy is retiring at the end of the church's fiscal year, which is the end of June.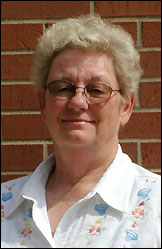 She has seen a lot of changes during her time with the church, she said. Nothing was computerized when she started - less than a year after the current priest, Father Richard Leisen, arrived - but now nearly all records and office tasks are completed electronically.
Judy McCoy leaves her 18-year position as the secretary of St. Louis Catholic Church at the end of the month.
Tasks like putting together the church newsletter have become much simpler with technology. Before everything was done on the computer, members of the parish would volunteer after weekday masses to help assemble them, and she fondly remembered three elderly ladies - called "The Three Musketeers" - who always had the task of adding labels.
The particular mixture of technology that she has grown accustomed to has not prevented her from errors over the years, though. Once she printed the church bulletin upside-down and noticed a man turning it around and around after church trying to determine the best way to read it.
Spellchecker has not caught other bloopers that have been made in the bulletin. Multiple times she has typed the word "users" instead of "ushers" and she once referred to the "crowing of Mary" rather than the "crowning of Mary."
Interactions with parishioners are the best part of her job, said McCoy. She has always been good with names, which has helped her in the position, and the people those names belong to have been great to know, she said.
By working closely with the rest of the church staff, she has made close friends and said it was a good fit for her because she simply enjoys being with all types of people.
As the church's first official secretary, though volunteers had overseen some of her duties prior to the creation of her position, she has helped the position evolve. It is hard to teach the incoming secretary, Marlene Bertram, McCoy said, because over her 18 years she has taken the best from many different resources and mixed them together in a way that might seem disorderly to others.
After so many years of involvement with the parish - not only as the secretary but also in other roles, including being a volunteer religion teacher for 13 years - McCoy said she would like to spend more time with her husband, Don, and family.
This Paynesville resident plans on getting out of town during her retirement, traveling mainly south except for a repeat trip to Alaska to visit a daughter. She will also camp, fish, golf, garden, scrapbook, and compile a genealogy.
---
Contact the author at editor@paynesvillepress.com • Return to News Menu
Home | Marketplace | Community
---