Carol Lura - who retired this spring after teaching art for 15 years in the Paynesville Area School District - discovered in school that she had talent in art.

"My first awareness of the visual arts occurred in the elementary grades," wrote Lura in an artist's statement. "We often created colored drawings for a bulletin board which ran above the blackboard on two walls of the room. The class voted which drawings would be up, and many of my art works were selected. Thus, I realized over time that maybe I was good at it."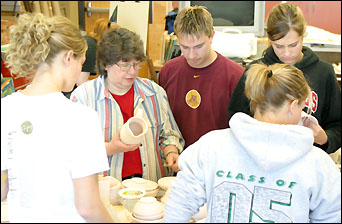 Growing up in Springfield and attending high school in Marshall, Lura pursued art as a career on the prompting of her high school principal. When filling out her college application, Lura did not know what to enter for planned major, but her high school principal encouraged her by saying, "You plan to major in art."
Carol Lura retired from teaching art at Paynesville Area High School this spring. She taught in high school for 22 years, including 15 at PAHS.
After graduating from the College of St. Benedict, Lura taught for one year in Cottonwood and for six years in Cambridge. Then she worked for four years as a commercial artist before heading to graduate school at Mankato State University.
She worked as a substitute teacher for a decade before starting full-time at Paynesville Area Middle School in 1990. She started teaching art at Paynesville Area High School in 1992.
Her classes - including Pottery I and II, Design I and II, and Advanced Art - cover elements of art history and art criticism while students draw, paint, sculpt, and make pottery.
Art, unlike many school subjects, involves working with your hands. Lura found that many students liked pottery just because of the different rhythm, from their other classes, that working with clay offers.
"I enjoy working with kids and seeing a little light bulb go off in their head," said Lura. Some, though, may take more prodding than others. "It may take a while for them to see it," she added.
"My academic knowledge and personal experience in visual arts have affected my approach in teaching art in the high school classroom. In our art program, the students do not have the visual arts experience as a sole art experience, but often a craft related to another subject that needs illustration," wrote Lura. "By the time they are in high school, they are insecure in their skill and creative assignments, have limited knowledge of art vocabulary, and lack an understanding of the visual arts in history."
"I have tried to present a common-sense approach to develop their artistic skills in drawing, painting, and sculpture with simple subject matter, showing the basic structures all forms are based on, technical shading, and an opportunity for them to put their individual marks on paper or canvas," wrote Lura. "I challenge them to go beyond, 'I'm finished!' and really see their art work with a critical eye to achieve a higher level of artistic accomplishment and personal satisfaction."
While pleased that some of her ex-students are making a living in art, she views art as having broader benefits for studentsŠto appreciate its styles and techniques whether actually creating art or viewing it at craft fairs or museums.
One thing that art teaches, said Lura, is that talent is not enough. It takes self-discipline, perseverance, patience, and a critical eye to make good art, noted Lura. The patience to create art is at odds with the instant gratification so common today in our society, she added.
One thing that Lura hopes the school district can eventually add is a specialist instruction in art from K-12 to enhance the repetition of art concepts and skills.
Lura lists her hobbies as genealogy research, folk and new age music, traveling, going to art exhibits, stamp collecting, tennis, gardening, and classical music and literature.
In retirement, she plans to write a family genealogy book on her mother's side and to have more time for her own art (including drawing, conte crayon and pastels, watercolors, acrylics, clay, and black and white photography). "When you start teaching, you don't have time for your artwork," she explained.
---
Contact the author at editor@paynesvillepress.com • Return to News Menu
Home | Marketplace | Community
---