Town and Country Days was held this year from Saturday, June 17, to Wednesday, June 21.

Results for the triathlon, held on Saturday, were printed last week in the Press or can be found here. Results for the other Town and Country Days events are listed this week.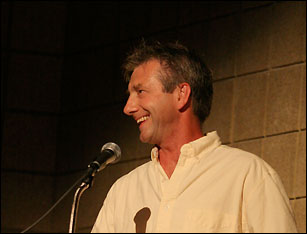 Peeper's Picnic
The Peeper's Picnic was held on Saturday at Veteran's Memorial Park on Lake Koronis in conjunction with the triathlon this year. The picnic served nearly 350 people, gathering about 284 pounds of food for the local foodshelf - the Paynesville Area Community Service Center - before rain shortened the picnic.
Trail Guards founder Tom Koshiol received a standing ovation while receiving the Ruth Aulick Award at the Miss Paynesville coronation last week.
Dairy Queen Pageant
Kindergartners could compete in the Little Miss Dairy Queen and Little Mister Dairy Queen contests, which were scheduled to be held at Veteran's Memorial Park but were moved to Paynesville Lutheran Church due to the rain.
The pageant was judged by the 2005 Paynesville royalty, by the 2006 Miss Paynesville candidates, by the parents of last year's winners, and by Dairy Queen employees.
Chosen as Little Miss Dairy Queen was Rachel Wander, the daughter of Sandy and Vince Wander, and chosen as the Little Mister Dairy Queen was Preston Bowden, the son of Paul and Lisa Bowden.
Other Little Miss candidates were: Alayna Buggs, Madison Christian, Alexis Janssen, Sierra Hoekstra, Payton Hubert, Kylie Bergman, Morgan Soine, Nicole Greer, Allison Hukriede, Emma Markgraf, and Johannah Nielsen. Other Mister candidates were: Spencer Imholte, Branden Buermann, and Lucas Peterson.
Street Dance
Due to the rain, the street dance on Augusta Avenue, featuring the Chelsea Hartmann Band, was moved indoors to Queen Bee's Bar and Grill on Saturday night.
Queen Pageant
The annual Miss Paynesville pageant was held on Monday in the auditorium at Paynesville Area High School. Twelve girls competed for the crown...Tawny Bengtson, Celia Frieler, Chelsey Kalkbrenner, Kristin Lang, Shonda Martinson, Emily Mergen, Jennifer Moburg, Kacy Nehowig, LeAnn Nepsund, Amanda Skalicky, Brittney Spanier, and Lindsey Wyffels.
Nehowig, the daugther of Deb and Kyle Nehowig, was crowned Miss Paynesville with Skalicky, the daughter of Jerry and Laura Skalicky, as First Princess and Wyffels, the daughter of Ellen and Victor Wyffels, as Second Princess.
Longtime pageant coordinators Sue Brauchler and Bev Mueller were also given honorary crowns in honor of their service.
Pageant Awards
Miss Paynesville: Kacy Nehowig
First Princess: Amanda Skalicky
Second Princess: Lindsey Wyffels
Poise and Appearance: Jen Moburg
Talent: Kacy Nehowig
Miss Congeniality: Lindsey Wyffels
Ruth Aulick Award
The Ruth Aulick Award, presented annually by the Paynesville Human Rights Commission and bestowed at the Miss Paynesville pageant, was awarded to Tom Koshiol, the founder of the Crow River Trail Guards. Story Previous winners of the award were: anonymous (2005); Brad Skoglund (2004); Maurice Dosdall (2003), Marlys Pearson (2002), Katherine Halvorson (2001), Don Torbenson (2000), Marie Lauer (1999), and Ruth Aulick (1998).
Pet Show
The annual pet show was held on Tuesday morning at the Koronis Manor. Every kid who brought a pet was given a prize. The new Paynesville royalty picked five overall prizes among the entries.
Pet Show Awards
Grand Prize: Daniel Fenske with his pig Elizabeth
First Place: Emily Nelson with her duck Quackers
Second Prize: Morgan Hubert with her dog Bruno
Third Prize: Breanne Thielen with her dog Maggie
Most Unusual: Kailey & Ethan Kaufman with baby chicks
Kiddie Parade
The Kiddie Parade was held on Tuesday afternoon with around a dozen entries. The parade started at the Koronis Manor, went down Washburne Avenue, and ended at the Gazebo Park.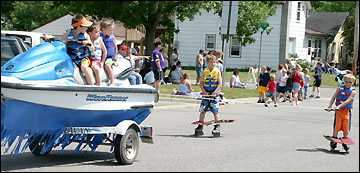 Four prizes were awarded, chosen by the Paynesville royalty.
Winning the Kiddie Parade on Tuesday afternoon was the Spanier/Roberg float, using the theme "Enjoying Waves and Shades on Koronis." Among the dozen kids on the float were Tyler Hubert, Nathan Fenske, and Weston Roberg (on the waverunner) and Brandt Hubert and Daniel Fenske (rollerblading).
The grand prize winners were the Spanier/Hubert families with the theme "Enjoying Waves and Shades on Lake Koronis." Members were: Daniel and Nathan Fenske; Brandt, Brooke, Kailey, Morgan, Tyler, and Zach Hubert; Andrea, Mikayla, and Weston Roberg; and Aubrie and Caden Spanier.
First prize went to the Imagination Station Daycare using a train theme with: Nolan Eckman; Erica and Renee Gaebe; Chelsie, Dalton, and Kegan Grandstand; Callie and Lindy Hennen; Brett Lang; and Andrew Zwiefel.
Second prize went to Vicki Frank Daycare, also using a boat, with Tyson Bruntlett; Dalton Bukowski; Izaac Cole; Kayla and Samantha Coulter; Raycer Frank; Blake Samuelson; and Izaak Schultz.
Third prize was the Zimmermans/ Rileys with their "Waves and Shades" cruiser: Collin, Natalie, and Sydney Riley; and Amy, Brad, and Cory Zimmerman.
Kiddie Parade Winners
Grand Prize: Spaniers/Huberts
First Place: Imagination Station Daycare
Second Place: Vicki Frank Daycare
Third Place: Zimmermans/Rileys
Pedal Tractor Pull
On Tuesday evening, 126 kids - ages 4-11 - participated in the annual pedal tractor pull, sponsored by the Paynesville Community Club. The pull was held on James Street.
Pedal Tractor Pull Results
4-year-olds
1) Clint Schmitz, Paynesville
2) Spence Evans, Paynesville
3) Braden Jones, Paynesville
5-year-olds
1) Hanna Wiechmann, New Munich
2) Julia Zipoy, Kimball
3) John Lahr, Belgrade
6-year-olds
1) Jordan Schlangen, Paynesville
2) Alexa Winter, St. Martin
3) Preston Bowden, Paynesville
7-year-olds
1) Keegan Binsfeld, St. Martin
2) Jaren Schmitz, Richmond
3) Cameron Schmitz, Paynesville
8-year-olds
1) Cassandra Hoppe, Belgrade
2) John Zipoy, Kimball
3) Brent Berg, Paynesville
9-year-olds
1) Ted Zipoy, Kimball
2) Devin Meagher, Paynesville
3) Hunter Czyalla, Litchfield
10-year-olds
1) Brady Terres, Paynesville
2) Justin Ruhland, New London
3) Frank Christian, Roscoe
11-year-olds
1) Krista Miller, Litchfield
2) Travis Blonigen, Paynesville
3) Anna Currens, Paynesville
Grand Parade
The Town and Country Days grand parade was held on Wednesday evening. This year's parade featured 97 units and five marching bands, in addition to the PAHS band, which rode on a float and played pep band music.
Grand marshals were Bill and Pat Ryan of Paynesville
The parade followed much of the same route as recent years: starting in the Industrial Park, going through downtown on Washburne Avenue, going past the elementary school on Mill Street, and ending at St. Louis Catholic Church. It did include a slight detour due to the street construction of Washburne Avenue south of downtown, jogging west a block on Highway 23 (which was detoured) and going south on Augusta Avenue to the elementary school and then resuming its normal route.
Parade Winners
Grand Marshals' Choice: Crow River Trail Guards
Marching Bands
First: Litchfield
Second: Willmar
Third: Montevideo
---
Contact the author at editor@paynesvillepress.com • Return to News Menu
Home | Marketplace | Community
---