Cancer teaches a lot of lessons, said speaker Julie (Olmscheid) Prince at the third annual Relay for Life in Paynesville on Friday. Through her struggle with breast cancer, Prince, who was born in Lake Henry and now lives in Hanover, learned that hotdish has nearly endless variations and that when one has no hair, there are no eyelashes to catch dirt. However, she also learned the meanings of gratitude and unconditional love.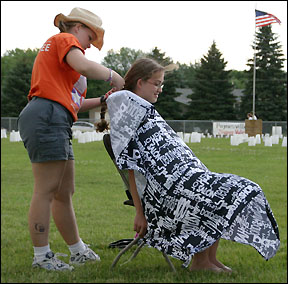 Relay for Life, which has been holding overnight events for 21 years, raises money for the American Cancer Society, which strives to find a cure for cancer and to improve the quality of life for those affected by the disease. During the 12-hour event, which went from Friday evening to Saturday morning at PAHS, participants spent most of their time walking laps around the track.
Nicole Blonigen volunteered to cut Kelli Fuchs' hair for "Locks of Love," which is hair donated to kids with medical hair loss, including cancer patients.
Participants go through the night until daylight comes again, and this journey corresponds to the journey of cancer victims, said Dr. Ray Lindeman, who emceed the relay. He celebrated his birthday at the event and shared a poem he had written for the occasion that spoke about being grateful and sharing one's gratitude with those who ask, "How are you?"
Even as they went through the night, the walkers were not in total darkness. About 2500 luminaria, which are paper bags decorated in remembrance of cancer victims and in honor of cancer survivors, lined the edges of the track. They contained candles that were lit during a ceremony following nightfall and continued to burn throughout the night, despite a rainshower before the lighting ceremony that soaked them.
Over $56,000 was raised in connection with the event, down $8,000 from last year's event. Much of the money was raised by 243 people participating on 19 teams, which was the same number of teams as last year. Fundraising by the top team was $4,800, with ten additional teams raising at least $2,500. There were three more teams reaching that level of fundraising than last year. In addition, eight participants were recognized for raising at least $1,000 individually.
Ceremonies at the event celebrated cancer survivors, and 65 of them participated in a special survivor lap that officially started the walking. They were applauded for their courage in the fight against cancer as they waved to other participants.
Another highlight of the event was Kelli Fuch's donation of her hair for Locks of Love. That organization gives donated hair to children suffering from medical-related hair loss - often cancer victims - and requires at least 10 inches of hair from donators. Fuchs, who finished seventh grade at PAMS this year, was donating her hair for the second time.
Each team was given a water balloon as a "burden" for team members to carry throughout the night. Someone from each team was to be walking with the burden at all times. At the closing ceremony, team leaders threw the balloons, and as they broke, splashing water on the grass in the middle of the track, homing pigeons were released by Norman Briggs of Hawick.
Two local pastors also spoke at the event. Pastor Ric Koehn gave thanks as the relay began for the survivors present and for the memories of those who have died.
Pastor Les Kringle - who is a bladder cancer survivor - gave thanks during the closing ceremony for participants, who "put feet to their prayers.
---
Contact the author at editor@paynesvillepress.com • Return to News Menu
Home | Marketplace | Community
---