Tom Koshiol was presented this year's Ruth Aulick Award by the Paynesville Human Rights Commission in the school auditorium during the Miss Paynesville coronation on Monday, June 19.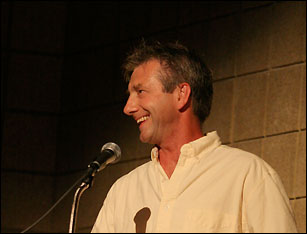 The Ruth Aulick Award was named for its first recipient in 1998 and has been presented annually through nominations by local residents in order to recognize an individual, group, or business in the Paynesville area that has shown outstanding humanitarian efforts, especially in the areas of age, disability, family status, gender, marital status, national origin, race, religion, or sexual orientation. Ruth Aulick founded the Paynesville Area Community Service Center, which acts as the local food shelf.
Trail Guards founder Tom Koshiol received a standing ovation while receiving the Ruth Aulick Award at the Miss Paynesville coronation last week.
For nearly 15 years, Koshiol has been leading local kids through the Crow River Trail Guards, a group that Koshiol founded and organized.
In 1991, the city appointed him to organize and lead a team of adults to restore a 12-acre river-bottom area on the west end of Paynesville. This came in response to a visit from the Minnesota Design Team in 1990, finding the river area and its natural resources greatly in need of care.
Once Koshiol became involved, he noticed that youth were showing up at the project meetings. Koshiol said that while down by the river he peered behind him and saw "two kids following along like two little shadows." They imparted to Koshiol that he needed guides for the river area during its restoration. "What we really need are trail guards," he recalled thinking, and the concept of the North Fork Crow River Trail Guards began.
Since they were first commissioned, the Trail Guards have removed piles of black top, pipes, and garbage from the mile-long stretch of the river to add a trail system, create a nature park on the riverbank, and plant trees in the area each April for Arbor Day.
Renewing the river-bottom area has been, "an extension of my own deepest interests," Koshiol said.
He grew up living only a half block from the river and explained that being solo in a kayak, canoeing, or backpacking bonded him with the river. "I wanted to do something for the sake of the river," he said.
But while laboring to restore a park by the river, Koshiol found equally important work with the local youth. "Our motto," he said, "is connecting kids to the outdoors, to get that land ethic into their hearts. That's really the key to land preservation. There's an intrinsic value."
To date, there have been approximately 228 North Fork Crow River Trail Guards, ages eight to 19 . Each year, about 50 members compose the group, 35 of which are fairly active. They meet every Saturday morning from 9 a.m. to 12 noon, ending work at 11:30 a.m. for a free lunch.
The season begins in April - usually with a game of kick ball - and concludes in October.
Koshiol said that the most challenging part of leading the Trail Guards has been raising the necessary funds to keep it going and has ardently kept it free for the kids to participate each week. He said that in the past 80 percent of his time has been spent fundraising and 20 percent actually involved with the projects and activities.
This year, he received a grant from the North Fork Crow River Watershed District, among other local support. Koshiol said the Trail Guards are still trying to raise much of the funding on their own and greatly appreciate any donations.
Koshiol has even moved his humanitarian efforts indoors. In 2000, he started a project called "My Room," which provides bedroom makeovers for deserving Trail Guards. The restoration includes everything from sheetrocking and painting, to laying new carpet and adding a new bed.
"It's an extra reward for our hardworking youth," he said.
Koshiol said that being a father has taught him the value and responsibility of administering to other peoples' children. His sons - Joey, 24, and Jacob, nine - have employed their interests with the Trail Guards, as has his wife, Patrice. "In the end, we are a product of our life and especially of our childhood," said Koshiol, noting that his parents, wife, and sons have all been influential toward his humanitarian causes.
Receiving a standing ovation, Koshiol accepted the award before an audience of about 500 during the Miss Paynesville coronation last week. He said his work happens to stand out because it's different, recognizing, "There's a lot of people who do a lot of good things in this town. Their important contributions to the world should not be forgotten."
Past recipients of the Ruth Aulick Award have been: anonymous (2005); Brad Skoglund (2004); Maurice Dosdall (2003); Marlys Pearson (2002); Katherine Halverson (2001); Don Torbenson (2000); and Marie Lauer (1999); and Aulick (1998).
---
Contact the author at editor@paynesvillepress.com • Return to News Menu
Home | Marketplace | Community
---