Band takes first at Alexandria
This article submitted by Michael Jacobson on 6/28/00.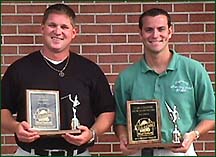 For the second consecutive year, the Paynesville Area Marching Band returned from the Vikingland Band Festival on Sunday with first-place honors in their division.

The prestigious, invitation-only band festival in Alexandria is considered to be like the state championship. Paynesville has marched in the parade twice and taken first in the Class A division both times.

Band director Bryan Mara (left) and ??? (right) hold the trophies from the Alexandria competition.

Paynesville also won Best Color Guard honors at the parade.

For the year, the Paynesville band was undefeated in its division in five parades. They were grand champions twice. Their color guard earned awards four times and the drumline once.

"You really can't ask for much better than that," said assistant director Ken Vork. "The kids were really focused all season."

"The band each year seems to increase its determination and focus," Vork added. "They just pick up things really quick, and they're really fun to work with."

Last year's band also won five division firsts, but needed six tries to do so.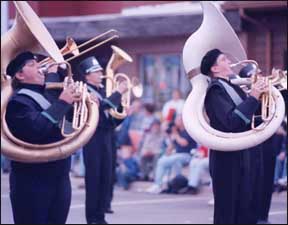 At Alexandria, the marching band edged Winona Cotter in the Class A division. Paynesville scored 79.1 to Winona Cotter's 78.1. Bertha-Hewitt was third.
Vork said it was quite an honor to win the division again and for the color guard to earn an award against the big-school competition. The band and its followers appreciated the significance even more this year, he said. "I think I saw a bigger eruption from the Paynesville contigent this year," he observed.
Overall, Mankato Area Lancers were the grand champions, as well as the Class AAAA victors, with a score of 85.4.
Litchfield won Class AA with 82.3, the fourth highest score overall.
Paynesville was fifth overall. They beat 13 of the 14 schools in Class A, AA, and AAA, as well as two Class AAAA schools.
Vikingland Band Festival
Top ten (out of 20 bands)
1) Mankato Area Lancers 85.4
2) Champlin Park 84.5
3) Park Center 84.3
4) Litchfield 82.3
5) Paynesville 79.1
6) Waconia 78.8
7) Winona Cotter 78.1
8) Maple Grove 75.5
9) Milaca 75.4
10) Bertha-Hewitt 70.8
Class A 1) Paynesville 79.1
2) Winona Cotter 78.1
3) Bertha-Hewitt 70.8
4) Long Prairie-Grey Eagle 67.9
5) Wadena-Deer Creek 54.4
Red Wing
Paynesville tied for first in Class AA at the Marching Band Classic in Red Wing on Saturday. Both Paynesville and Sauk Rapids-Rice scored 82.8 to tie for the division title.
Paynesville also won for Best Color Guard.
Park Center won grand champion honors, and Paynesville and Sauk Rapids-Rice had the second best score overall.
Marching Band Classic
Top five (out of 13 bands)
1) Park Center 87.3
2) Paynesville 82.8
Sauk Rapids-Rice 82.8
4) Anoka 81.6
5) Milaca 80.8
Class AA 1) Paynesville 82.8
Sauk Rapids-Rice 82.8
3) Milaca 80.8
4) Lake City 67.7
Red Wing
Paynesville took first in Class AA and second overall at a parade in Milaca on Thursday. Paynesville scored 81.5 to easily beat Yellow Medicine East and Becker in their class.
Alexandria swept the color guard, percussion, and drum major awards and won the grand championship with a score of 84.6.
Gateway to the North Festival
Top five (out of 12 bands)
1) Alexandria 84.6
2) Paynesville 81.5
3) Bertha-Hewitt 78.4
4) Yellow Medicine East 75.9
5) Princeton 74.6
Class AA 1) Paynesville 81.5
2) Yellow Medicine East 75.9
3) Becker 74.0
4) Foley 68.0
Chicago trip
Around 70 band members will be leaving today for a five-day trip to the Chicago area. On the trip, they will see the museums, aquarium, and Sears Tower in downtown Chicago. They will tour Soldier's Field and attend a Twins-White Sox game at new Comiskey Park. They will go to a Six Flags amusement park, and stop at a water park in the Wisconsin Dells on the way home.
They will return on Sunday.
The band will play in its last parade in St. Joseph on the Fourth of July. The parade, on Tuesday, July 4, starts at 10 a.m. This will be the last chance to see the band for the year.
The community got a chance to see the marching band perform in Paynesville during the Town and Country Days parade on Wednesday, June 22. As the host band, Paynesville marched but did not compete in that parade.
---