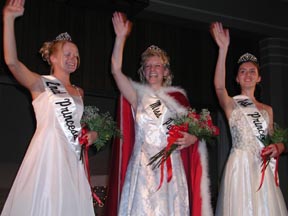 Erin O'Fallon (center) was crowned Miss Paynesville at the annual pageant on Monday, June 18, that kicks off Town and Country Days. Chosen as her princesses were Wendy Bennett (right), first princess, and Kelli Fenske (left), second princess.

Five contestants competed in the pageant.

O'Fallon is the 18-year-old daughter of Jim and Gretchen O'Fallon. A recent graduate of Paynesville Area High School, she performed a French horn solo as her talent, and also won the award for Miss Congeniality.

Bennett is the 17-year-old daughter of Mike and Deb Bennett. She did a ballet dance as her talent. She will be a senior next fall at PAHS.

Fenske is the 17-year-old daughter of Todd and Sandy Fenske. She performed a flute solo as her talent, and will also be a senior at PAHS next fall.

Miss Paynesville will receive $700 in scholarships and gifts, and the princesses will receive $350 apiece.

Seniors-to-be Melissa Bachman (pictured below) and Naomi Bork won individual awards. Bach won the talent competition with a saxophone performance of the theme from "Titanic," which she performed by memory.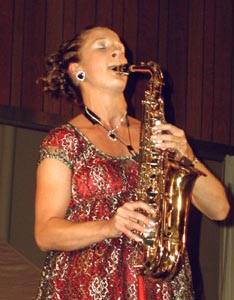 Bork won the poise and appearance award. For her talent, she did a dramatic reading about the perils of drinking and driving.
The talent, congeniality, and poise and appearance winners all receive $150.
On hand were royalty from Melrose, Belgrade, and two local Stearns County Dairy Princesses: Leanne Kolb and Steph Hoeft, both recent PAHS graduates.
The contingent from the Minneapolis Aquatennial, including Lisa Carlson, Willmar, the Queen of the Lakes, presented honorary commodore's awards to Marilee Schwandt, who directed her last pageant after five years, and Sue Brauchler, past president of the Chamber of Commerce.
Paynesville's outgoing royalty Ð Miss Paynesville Trista Dukowitz and princesses Ginni Lahr and Becca Werlinger Ð said thank yous and took a last walk down the runway.
Dukowitz included words of thanks to the entire Paynesville community, reading a journal entry she wrote just after being crowned a year ago. "On Monday, June 19, 2000, I was crowned Miss Paynesville," she read from her journal. "I need to write in here exactly how I feel so that I will never forget how wonderful it all is. The outpouring of support and inspiration that I feel from this community is indescribable. I am still thanking God that I have been given this wonderful opportunity. I love being Miss Paynesville, and I hope I represent Paynesville well. It is all still sinking in!"
"I have many people behind me, and I just can't describe the sense of pride I feel having come from this great family and community. I hope someday I can repay all of this to everyone. I love them all!" she read. Also during the ceremony, Joe Voss, chairman of the Paynesville Human Rights Commission, presented this year's Ruth Aulick Award to Kathryn Halvorson.
The emcee for the pageant was Dr. Bob Gardner, and escorts were recent PAHS graduates J.T. Koehn and Nathan Martinson.
---
Contact the author at paypress@lkdllink.net • Return to News Menu
Home | Marketplace | Community
---