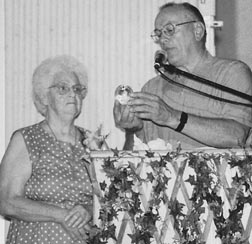 Katherine Halvorson may have 18 grandchildren of her own, but she also has more than 50 others that call her grandma.

Halvorson, 78, has worked with the foster grandparent program for 15 years and was recognized for her work by receiving the Ruth Aulick Human Rights Award at the Miss Paynesville pageant on Monday, June 18.

Joe Voss, chairman of the human rights commission, presents Katherine Halvorson with the Ruth Aulick Humanitarian Award at the Miss Paynesville pagent on Monday, June 18.

"I'm happy to receive an award for working with people," Halvorson said. She and Ruth Aulick, the founder of the Community Service Center in Paynesville, worked together to help one family.

Joe Voss, chairman of the Human Rights Commission, said they had several letters nominating Halvorson for the honor.

Arlene Sullivan, a Stearns County social worker, nominated Halvorson for her expertise and years of experience with families. The children all love and respect her and look forward to her visits, Sullivan said.

As an in-home foster grandparent, Halvorson has the opportunity to serve at-risk families across the county. She attends birthday parties, grandparent programs at school, school field days, and Special Olympic competitions. She also reads to kids and plays board games with them.

"We are told just to be grandmas," Halvorson said. "We don't baby-sit or change diapers."

Halvorson added they never know what will come up. She has sat with families at the hospital, has been called in to mediate between family members, and even walked one down the aisle on her wedding day.

Halvorson presently works with three foster families in the county. She drives twice a week to Melrose and has a family in the Paynesville area. Her longest period with a family was 10 years, while others last only a couple of months.

Besides the humanitarian award, Halvorson has received the Good Shepherd Award from the Paynesville Lutheran Church, a Department of Human Service Outstanding Services Award, and will receive the Foster Grandparent Award in October, recognizing her 15 years in the program.

Halvorson has always enjoyed working with children and became involved in the foster grandparent program through her church. She has worked with children of all ages from infant to high school age.

"Some of the kids have grandparents living close by, but they never see them," Halvorson said.

A native of Sioux Falls, S.D, Halvorson and her husband, Alvin, moved to Paynesville in 1964. "We always liked Paynesville when we would drive through from Duluth to Sioux Falls," she said. The couple picked Paynesville for their retirement home.
---
Contact the author at paypress@lkdllink.net • Return to News Menu
Home | Marketplace | Community
---