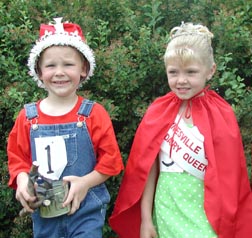 Five boys and 10 girls competed for the honor of Dennis the Menace and Little Miss Dairy Queen Sunday afternoon at the Gazebo Park.

Dalton Stang and Chala Hoppe were crowned by last year's royalty, Brian Braegelmann and Andrea Schlangen. Hoppe was chosen after judges voted a second time to break a three-way tie.

Competing for Dennis the Menace Look-a-Like were Dalton, son of Steve and Brenda Stang; Justin Soine, son of Jamie and Melissa Soine, Luke Leverington, son of Mark and Debra Leverington; Caleb Arneson, son of Brad and Nancy Arneson; and Michael Oglesby-Tell, son of Bill and Bridget Tell.

Little Miss Dairy Queen candidates were Chala, daughter of Kevin and Michelle Hoppe; Rachel McCloud, daughter of Steve and Virginia McCloud; Anna Currens, daughter of Dave and Sue Currens; Susan Voss, daughter of Dave and Hannah Voss; Amber Wendlandt, daughter of Ann and Tod Wendlandt; Rachel Rittenhouse, daughter of Tim and Julie Rittenhouse; Ivy Nelson, daughter of Wayne and Kimberly Nelson; Erica Schlangen, daughter of Dale and Julie Schlangen; Natasha Meed, daughter of Jonathan and Marsha Meed; and Samantha Eickhoff, daughter of Jim and Jill Eickhoff.

The Paynesville Dairy Queen started hosting the contest in 1990 as a fund raiser for the Children's Miracle Network (CMN). The Dairy Queen raised $765 for CMN so far this year.

All the contestants were asked about their pets and what they liked to do for fun. They were also asked about their future plans, and their answers ranged from firemen and police officers for the boys to teaching and being a doctor for the girls.

Judging the contest this year were Trista Dukowitz, 2000 Miss Paynesville; Wendy Bennett, 2001 First Princess; Marilee Schwandt, queen pageant coordinator, and Paul and Theresa Braegelmann, parents of the 2000 Dennis the Menace Look-a-Like.

The contest was held during the Peeper's Family Picnic on Sunday afternoon. Peeper's employees served the lunch. The cost of the meal was a donation to the food shelf. Games were set up for the children to play, and karaoke was available for those who enjoy singing.
---
Contact the author at paypress@lkdllink.net • Return to News Menu
Home | Marketplace | Community
---