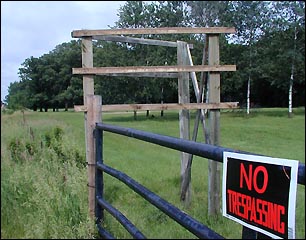 The Roscoe Community Park has been closed after 24 years.

Due to decreased usage, the Roscoe Community Club was losing money on its upkeep and voted to sell it. The park is located two miles west of Roscoe on Highway 23. It is now a private residence.

In February the Roscoe Community Club held its annual meeting and voted to close the park. Of the 45 present, 22 voted to sell the park, and 16 voted to keep it.

In the past, the park was open to the public at no charge from Memorial Day through Labor Day from 9 a.m. to 9 p.m. It was also rented out for such things as class and family reunions and graduation parties. The rent from special events went towards the upkeep for the park.

However, in recent years usage decreased and the rent was no longer enough to cover the cost of upkeep, over $2,000 per year for the park, said Roscoe Community Club Chairman Kenny Symanietz. The question then arose of whether to sell the park or keep it and lose money.

Additionally, the park was in need of some major investments, such as new restrooms. Those in favor of closing the park believed that money would be better spent on improving the park in town, which is closer and more convenient for most Roscoe residents, especially children.

On the other hand, some saw keeping the community park as more important than making a profit, and voted against selling it.

The Roscoe Community Recreation Club used the proceeds from Roscoe Fun Days to purchase land for the park from LeRoy Hillbrand in 1978. Roscoe Fun Days started just two years earlier in 1976, as did the club. Eventually bathrooms and two picnic shelters were constructed, and horseshoe pits and a volleyball court were added.

"It's been a nice asset to the Roscoe community and rural Paynesville to have a park there," said Hillbrand, who would have liked to see the park remain in that location.

"I feel bad for those who put work into it over the years," said Symanietz, "But we went with how the majority voted."

The Roscoe Community Club is currently working on plans for improving the park near the ball diamond.
---
Contact the author at paypress@lkdllink.net • Return to News Menu
Home | Marketplace | Community
---