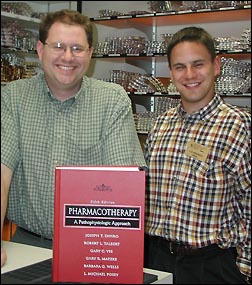 Todd Lemke and J.D. Anderson, doctors of pharmacy (Pharm.D.s) at the Paynesville Area Health Care System, wrote a chapter in the latest edition of a standard pharmacy book. Lemke and Anderson wrote a chapter on gastrointestinal infections and enterotoxigen poisonings for the fifth edition of Pharmcotherapy: A Pathophsyiologic Approach.

The 2,000-page reference book is used mainly by medical students, doctors, pharmacy students, and pharmacists. "This gets used by pretty much every pharmacy school in the country and most medical schools," explained Lemke, who has worked at PAHCS since 1999.

Their 15-page chapter covered dysentary, shgellosis, salmonella, and traveler's diarrhea. They had to list the cause of each disease, treatment options, and current treatment recommendations.

Neither Lemke nor Anderson claims to be a gastrointestinal specialist, but they did gain a lot of knowledge in researching their chapter. They spent several months over the winter of 2001 doing literary searches, mainly through the University of Minnesota, to find the latest studies and recommendations. Their chapter used 102 references to various studies and articles.

"It's a lot of work," said Anderson, who joined the staff at PAHCS in 2000. "When you have to work an eight-hour day and then find time to work on it, it's tough."

Both Lemke and Anderson felt doing the research and writing the chapter was a good experience but felt that they preferred working with patients in a clinic setting, which they do at PAHCS, in addition to handling medicine at the hospital and the Koronis Manor.

They got the opportunity to write the chapter through their former professor at the University of Minnesota, who wrote it originally a decade ago. Laura Odell, another Pharm.D. at PAHCS, updated the chapter four years ago.
---
Contact the author at paypress@lkdllink.net • Return to News Menu
Home | Marketplace | Community
---