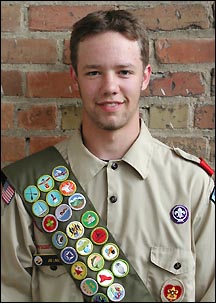 Joseph Lingl has completed his Eagle Scout project. He soon will hold the highest honor a Boy Scout can receive. Lingl's Court of Honor will be held on Saturday, June 29, at 2 p.m. at the North Fork Crow River Nature Park.

Lingl had to complete his Eagle Scout project before he turned 18."I feel relieved it's finally over after all these years," said Lingl.

Lingl, the son of Brad and Paula Lingl, recently graduated from Paynesville Area High School. He has been in Boy Scouts since he was in first grade.

For his Eagle Scout project, Lingl worked on the picnic area of the Crow River Nature Park. He put in a bike rack, which required a 3' by 7' concrete slab, and also an area for people to have picnics. He had to put in a 13' by 10' foot concrete slab for the picnic area. Lingl then put in a 1,400-pound concrete picnic table. He needed a table large enough to ensure people wouldn't try and move it or vandalize it.

Lingl put his signature on this project in one of the corners of the picnic area. Along with his name he put two oak leaves into the concrete as it dried, as well as his new title "Eagle."

The project took about a year for Lingl to complete. He received a lot of help from his younger brother, Ben, who is also in Boy Scouts.

Lingl wanted to do most of the project by himself, so he didn't receive much help from other scouts. This way, Lingl feels he did more of the hard work of the project, instead of just organizing people and telling them what to do.<

The Paynesville Lions Club and the Sportsman Club donated money for Lingl's project.

Lingl has earned 28 merit badges over the past 12 years. Those badges are camping, canoeing, citizenship in community, citizenship in nation, citizenship in world, climbing, communications, cooking, cycling, environmental science, family life, fingerprinting, fire safety, first aid, fishing, Indian lore, lifesaving, orienteering, painting, personal fitness, personal management, pets, reading, rowing, skiing, small boat sailing, swimming, and wood carving.

Lingl has taken many trips with the Boys Scouts in his time with them. He has traveled to the Black Hills of South Dakota and has taken two trips to the National Jamboree in Washington, D.C. The jamboree only occurs every four years, and Lingl was able to go in 1997 and in 2001.

A trip that Lingl wanted to go on, but never got to take was a hiking trip in New Mexico. Two scouts are taking that trip this year.

Lingl is unable to go as a scout since he recently turned 18 and his affiliation as a scout stops at the age of 18. Now, Lingl can only be a leader. "It was fun while it lasted," he said.
---
Contact the author at paypress@lkdllink.net • Return to News Menu
Home | Marketplace | Community
---