Lake Henry hold second annual Hay Raze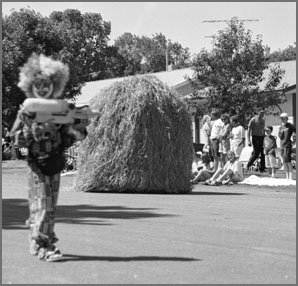 This article submitted by Stephanie Everson on 06/24/97.
With the help of the "Lake Henry All City Marching Band," a huge hay bale walking down the street, and 14 other entrants, Lake Henry's second annual kiddie parade and Hay Raze Days was a memorable one, with Melvin and Teresa Wuertz serving as Lake Henry's Grand Marshals.

The kiddie parade began at 11 a.m. on the north side of the baseball field. The All-Sports took first place, the Little Rascals took second, and the Lake Henry Saloon float, with several kids dressed up to look like they might have in 1927, took third. Throughout the afternoon, several teams competed in the volleyball and horseshoe tournaments, the round bale roll, and the Little League tournament.

There were two categories in the round bale roll, mens and womens; but being there was only one team competing in the women's category, Brenda Terres, Cindy Hess, Bev Lieser, and Donna Welle won, hands down, with a time of one minute and 58 seconds. The challenge was for the teams to push a round hay bale through an obstacle course without touching the fence lines.

Chico Welle, Peter Welle, Dale Olmscheid, and Jerry Humbert won the men's round bale roll, and in the horseshoe and volleyball tournaments, Todd Reutzel took first in horseshoes, and Rick and Kathy Flanders' team won the volleyball competition.

Lake Henry took first place in the Little League tournament. The winners in each of the day's events took home cash prizes.

---