The Paynesville Police Department has a new weapon to fight crime. Soon, officers on patrol will carry a taser, a less lethal weapon that uses electricity to quickly disable suspects while causing few lasting effects.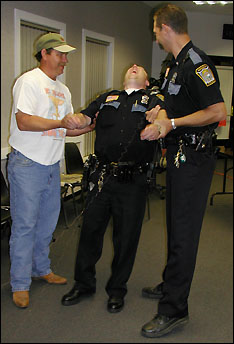 According to deputy Kellan Hemmesch, coordinator of Stearns County's taser program, a taser gun has a 99 percent drop rate and can be safer and more effective than other methods in stopping a confrontational suspect.
Tasers are especially valuable in breaking up fights and responding to domestic disturbances, which represent a large number of the calls for the Paynesville Police Department, said police chief Kent Kortlever.
The department is so small, he added, that officers don't always have backup readily available, so responding to any violent situation could be especially dangerous.
Ideally, all subjects would simply respond to verbal commands from a police officer, but in some cases a confrontational subject needs to be subdued. Officers then must resort to physical force or the use of sprays (mace or pepper). Deadly force is used only as a last resort.
The taser is expected to be better than both physical force and sprays in controlling confrontational subjects. The taser has a range of up to 21 feet, keeping officers out of harm's way. Where an officer could get injured using physical force or could be affected himself by a spray, the taser should be more effective and quicker in subduing subjects.
According to Kortlever, a taser may even boost the effectiveness of using verbal commands. The intimidation factor alone may be enough to break up a fight or a domestic dispute. The taser is equipped with a laser for aiming, and could get some subjects who see a red light on his or her chest to comply with verbal commands.
Similar in action to a stun gun, a taser resembles a plastic hand gun but is equipped with an air cartridge that shoots two barbed probes. Attached to high voltage wires, once these probes enter a body, embedding less than a quarter inch in the skin, they send an electric pulse that causes muscles to contract, disabling a suspect almost immediately. In close quarters, it can also be used like a stun gun.
A taser should have no lingering effects except for some minor irritation where the probes enter the skin and a tingling sensation, said Hemmesch, a Paynesville native who recently conducted taser training for four local police officers.
Some situations when a taser should not be used include confrontations in a meth lab, said Hemmesch, because the taser could cause an explosion. It also should not be used on pregnant women, since a fall could hurt mother and baby, said Hemmesch.
During the training on Sunday night, officers learned how to use the new weapon effectively and safely. They were taught when to use the taser, where and how to aim it, how to remove the probes from the skin and safely dispose of them, and how to wear the weapon.
Officers also got to test how effective the weapon can be. They each received a one or two second taser blast. (The usual blast is five seconds and can be held up to eight seconds.) The experience was jolting, said Kortlever, after getting a very short blast from the taser. It felt a little like an electrical shock, and there was a bit of pain, but it was gone in a few seconds. One officer collapsed after less than a second.
The purchase of a taser was approved by the city council in April and cost the city nearly $900. According to a study, conducted in Orange County, Calif., the price of a taser could be offset by savings in medical expenses resulting from the use other types of force, said Hemmesch.
Currently, the Paynesville Police Department has only one taser that will be carried by the officer on duty. Officers will start carrying the weapon after a taser policy is approved by the city council.
---
Contact the author at editor@paynesvillepress.com • Return to News Menu
Home | Marketplace | Community
---