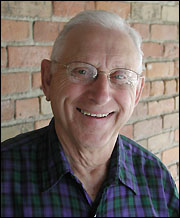 Maurice Dosdall - who has lived in Paynesville for 55 years and served the community through the Lions Club for nearly 50 years and on the school board for over 16 years - was chosen as the recipient for the Ruth Aulick Award for 2003.

The Ruth Aulick Award was first given to Ruth Aulick, the founder of the Paynesville Community Service Center, by the Paynesville Human Rights Commission in 1998. The award is meant to recognize someone who does volunteer work to help the community.

Other winners of the award were Marie Lauer in 1999; Don Torbenson in 2000; Katherine Halvorson in 2001; and Marlys Pearson in 2002.

Dosdall, who grew up on farms near Hancock, Starbuck, and Cyrus, moved to Paynesville in 1948, when his wife, Margaret, took a teaching job here. Dosdall did on-the-farm training for returning WWII vets for three years before taking a job with the Koronis Mill and Supply in 1951, where he worked for 16 years.

Then, in 1967, he took a job for Doboy Feeds as a nutritional consultant and retail salesman, which he kept for 20 years. In 1987, he bought a feed store in Sauk Centre with a partner, which he owned for ten years. For the past six years, he has worked at Hilltop Stop and Ace Hardware.

He has no plans to retire, he said. "Not as long as I'm healthy and capable," he explained. "I've got to have something to do. I don't have a hobby."

Dosdall joined the Paynesville Lions in 1955 and has maintained 100 percent attendance since then. He has served the local club as secretary, treasurer, and president over the years.

Through Lions, Dosdall helps coordinate the recycling of eye glasses for District 5M8. Paynesville native Jim Hess, an eye doctor in Crystal, belongs to Volunteer Optometric Services to Humanity, which brings the glasses to people who need them in the developing countries, including India, Bolivia, Guatamala, Mexico, Jamaica, Uganda, Brazil, Russia, Tanzania, and Bangladesh.

Dosdall receives the used eye glasses and sorts them, taking only the usable ones to the Paynesville Area Center, where volunteers wash them, measure the prescription, mark each pair, and pack them. The volunteers typically handle 200 pairs of glasses each week, or 10,000 each year.

"The thing that keeps me in Lionism," he said, "is that Lions help people. You can do more as a group than you can as an individual."

At Paynesville Lutheran Church, which Dosdall joined 50 years ago, he has taught Sunday School, served as superintendent of Sunday School for nine years, served on the church council as a deacon and trustee, and served four years as president of he congregation.

He has also served as head usher at Paynesville Lutheran for 40 years. As head usher, he arranges the schedule, which requires 448 ushers for the year, makes sure the services run properly, and fills in as needed. Dosdall said that he got his first ushering experience at the state fair as a kid, when he worked in the grandstand.

Dosdall has also served 16 years on the school board. He was always interested in education, he said, since his wife taught at school and his three sons attended school and graduated from Paynesville.

Dosdall was a member of the building committee in 1967, when the design for the new Paynesville High School was adopted and approved. The current high school opened in 1969.

In 1986, Dosdall was elected to the school board. He took a couple years off in the early 1990s but has since been re-elected. When his current term runs out in November, he will have served on the school board for 16 and a half years. He takes pride in the fact that during his tenure on the board the school district has built a new middle school, remodeled the elementary school, and added a fitness center and auditorium. Dosdall said he has not decided if he will run for another term on the school board or not.
---
Contact the author at editor@paynesvillepress.com • Return to News Menu
Home | Marketplace | Community
---