Two win honor of kissing the pig
This article submitted by Linda Stelling on 6/23/98.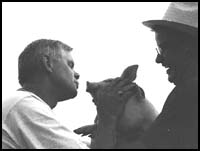 In the ďKiss the PigĒ contest for Paynesville Area Transit, there were two winners, Bill Ryan and Peter Jacobson, shown above kissing the pig.

Janell Hoffman, director of the Paynesville Area Senior Center, declared a tie between the two men as the donations were very close. The two men raised $300 (votes).

The Paynesville Office of the Melrose Credit Union had nominated Doug Stang, who turned out to be the loser in this race with only $11 (votes). He won the honor of kissing the back of the pig

Another twist in the contest was Troy Stang, a write-in candidate. He was the true winner with $260 (votes). He was given the honor of holding the pig for the other candidates.

Joe Spaulding finished second, receiving a pork dinner, a bucketful of ground corn.

Other candidates competing were Jennifer Wendlandt, Don Torbenson, Dave Peschong, and Steve Brisendine.

All totaled, $739 was raised for the Paynesville Area Transit. Hoffman thanks all the contestants for being good sports.
---