Pet show saw animals of all sizes
This article submitted by Linda Stelling on 6/23/98.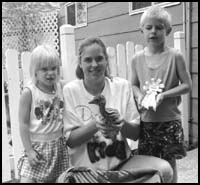 Pets of all sizes and shapes were exhibited at the annual pet show during Town and Country Days.

Forty-nine youngsters brought their pets for the new Miss Paynesville, Mackenzie Merrill, and her princesses, Angie Lahr and Melissa Schneider, to ooh and ahh over. The judges handed out ribbons naming the cutest, smallest, largest and most unusual.

Winning the grand prize was Jeremy Kalas, Paynesville, with his grey mini lop named Honey Bunny.

First prize went to Jayna Flanders, Paynesville, and her black lamb named May.

Second prize went to Tanya Whitcomb, Paynesville, with her Siamese twin cats named Shadow and Sox.

Third prize went to Ashley and Tony Arends with their litter of three-week-old kittens. There were 10 kittens in the basket.

The most unusual pet exhibited at the show were 17-day-old emu chicks shown by Eric and Amanda Fenske, Paynesville.
---