Lake Henry Hay Raze had something for everyone
This article submitted by Linda Stelling on 6/23/98.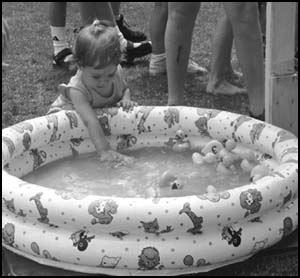 The third annual Lake Henry Hay Raze Day was held under ideal weather conditions, not too sunny and not too hot.

Grand marshals for the day were Jerome and Lorraine Olmscheid, Lake Henry.

At 10 a.m., the little league baseball tournament got under way. The Spring Hill team claimed the first place medals. Participating were Lake Henry, St. Martin, Spring Hill, and Roscoe.

At 11 a.m., the kiddie parade got under way. Winners were: first place, Best Part of Lake Henry... with the Dale Schlangen, Dale Lenzmeier, and Joel Roelike families; second place, Of all the places in the U.S. to see...Hay Raze is the place to be..with the Scott Weidner and Barten families; third place, Tar Trout entry, with Kim Hess, Joey Liebl and Ashley Lieser.

The Sauk Centre volleyball team took first place in the eight-team volleyball tournament.

At 5 p.m., the Hay Raze Olympics were held. Winning the Olympics were the Diamond Back team with the Hired Goons finishing second.

Winning the scavanger hunt were; first place, Andrea Schlangen; second, Steve Gerding; and third, Chris Roelike.

At 3 p.m., the old timerís baseball game featured former baseball players who graduated in 1977 and older taking on the current Lake Henry Lakers baseball team. Winning the game were the Lakers with a score of 10-4.
---