Dairy Queen pageant held Tuesday evening
This article submitted by Linda Stelling on 6/23/98.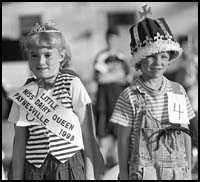 Danielle Liebl, daughter of Mike and Sherri Liebl, was crowned Little Miss Dairy Queen on Tuesday evening.

Casey Hess was named the Dennis the Menace Look-a-like. He is the son of Dale and Linda Hess.

The pageant is sponsored by Westvig's Dairy Queen to raise money for the Children's Miracle Network.
---