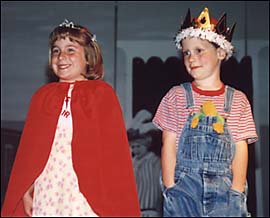 Little Miss Dairy Queen, Jackie Jo Skoglund,
and Dennis-the-Menace Look-Alike, Daniel Glesne,
were crowned on Sunday afternoon, June 13, 1999,
at the Peepers Picnic and Antique Car Show.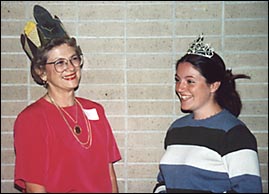 Miss Paynesville 1949, Evelyn (Wahl) Carlson
visited with the reigning Miss Paynesville 1998,
Mackenzie Merrill, at a former queens'
get-togther on Sunday evening.
For information on former queens
who attended the evening, click here.