Lauer presented the Ruth Aulick Award
This article submitted by Linda Stelling on 6/23/99.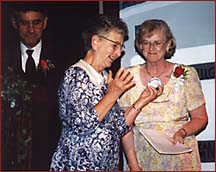 Marie Lauer, 77, Paynesville, was awarded the 2nd Annual Ruth Aulick Award by the Paynesville Human Rights Commission during the queen pageant, June 14. Lauer, center, is pictured with MCs for the queen pageant, Wally and Darlene Thyen.

The award was started in 1998 to recognize people who have worked, voluntarily, for the rights of those in the Paynesville community.

"The award is a real treasure," Lauer said. "I don't deserve it, there are a lot of others who deserve it more."

Sherri Liebl, a member of the Paynesville Human Rights Commission, read Lauer's nomination. It stated:

"If you are ever in need, or could just use a friend, Marie Lauer is the one to call. Marie is retired, but you would never know it, because you will never find her at home.

Marie starts her day by helping the people in her apartment building. You may find her putting drops in someone's eyes or putting T.E.D. hose on another. She picks up those going to church daily, both those in her apartment building and those along the way. After church, she often runs errands for others as well. Marie's day is just beginning. You may find Marie at the Community Service Center where she has volunteered since 1984. Marie does everything at the center. She used to work hand in hand with Ruth Aulick. Marie has always been a much needed fixture at the Community Service Center.

Marie also volunteers at the Koronis Manor and the Good Samaritan Care Center and has done so since 1983. All the ladies at the Manor and Good Sam are delighted to see Marie, because they know it is their day to get their hair done. She also helps out with bingo and weekly mass.

If you have ever visited the Paynesville Area Center, I can bet you have seen Marie for she helps prepare and serve the noon meals.

Marie takes people shopping and to the doctor, she has even been called to take a sick friend to the doctor in the middle of the night. She sits with friends until all hours when they are sick. She helps at funerals in her church and helps at church in any way she can. She also baby-sits for young parents who cannot afford a sitter."

Lauer said she started volunteering her time at the Community Service Center part time in 1982 after the death of her first husband and full time in the fall of 1988 after the death of her second husband. She has also volunteered her time doing hair care at the Koronis Manor and Good Samaritan Care Center. Every June, for almost 30 years, she has been playing bingo with the residents at the Koronis Manor and Good Samaritan Care Center. "I'm alone and what else is there for me to do. I get tired of vacuuming and dusting, that's not my cup of tea," Lauer said.

Lauer can also be found driving people to doctor appointments. "I'll take anybody who calls, any time of the day or night," she added.

"As long as I'm healthy, I will be helping others," she said.

She has four children of which two are adopted. Lauer has been a member of St. Louis Catholic Church since 1946 and is a member of the church's mission group where she helps make quilts, bandages, cancer pads, and rosaries.
---