Special cap needed to correct misshapened head of Paynesville toddler
This article submitted by Linda Stelling on 6/23/99.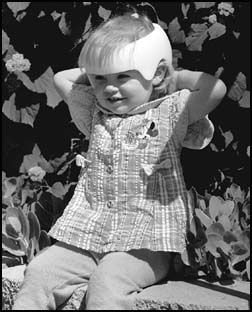 After the birth of their first child, Emma, George and AnneMarie Stevens, Paynesville, felt something was wrong but couldn't determine what. Emma's eyes and ears were not symmetrical.

A teacher at the elementary school, AnneMarie had an opportunity to see a television program one morning when school had a late start last winter. "It was amazing," she said. "The whole program fit Emma's situation. I wrote down the Internet site from the program to learn more about orthotic cranioplasty. I also called Dr. Youngs about what I had learned.

The Stevens quickly called to make an appointment for Emma to be examined. There are only 10 hospitals in the United States that specialize in orthotic cranioplasty and the nearest one was St. Mary's Pediatric Specialty Clinic in Madison, Wis.

At Madison, the doctors made a plaster mold of Emma's head. "Emma did not like that process one bit and screamed bloody murder at first," AnneMarie said. "Once the mold was complete, the misshapen form was really evident."

The plaster mold was sent to Arizona where Dr. Jeanne Pomatto made a Dynamic Orthotic Cranioplasty (DOC) Band for Emma to wear. The DOC Band is worn 23 hours a day, with one hour out for skin care and hygiene.

Progress is checked every three weeks to ensure that the pressure of the band does not exceed skin tolerance. The skull growth is monitored, correction of the deformity is evaluated, and the band's inner lining is adjusted as the treatment progresses.

The DOC Band is fabricated from a plaster of paris impression, using a semi-rigid outer shell, bonded to a foam inner lining. This lightweight cranial headband applies pressure to the elevated areas, while leaving space for growth and remodeling of the flattened areas.

"At each checkup, they adjust the inner lining by grinding out an area to make room for Emma's skull to grow properly," AnneMarie said.

Emma started wearing her headband at the age of 14 months. She is now 19 months old. "The older the infant, the longer she may need to wear the headband," AnneMarie said.

"Our biggest fear was getting Emma to wear the headband," AnneMarie added. "She fussed at first. However, after seeing a boy at the clinic with the same headband, then it was okay. She gave him a hug and smiled to us it was okay. George and I even wore hats at home the first week, making a game out of it, encouraging Emma to wear her hat (headband)," she added.

Estimates indicate that one in 300 infants have variable degrees of cranial asymmetry (abnormal head shape). The deformations encompass causes such as premature birth, restrictive intrauterine positioning, cervical abnormalities, birth trauma, torticollis (shortening of the neck muscle) and even sleeping positions (on one side too often).

On Monday, June 21, George took Emma to what they hope is their last visit to the clinic in Madison, Wis. "This should be our last visit. The doctors will make one final adjustment to the headband and then Emma will wear it another four weeks," AnneMarie said.

AnneMarie said the headband is not covered by insurance as they don't deem it medically necessary. "Prior to the start of treatment, Emma had one ear infection after another. After wearing the headband, she hasn't had an ear infection since.

Since the program AnneMarie saw on television aired, the telephone has been ringing constantly at the clinic and the number of patients has doubled.

AnneMarie said there are only four patients visiting the clinic from Minnesota. "There was a lot we did not know about her problem. We often asked ourselves what did we do wrong," AnneMarie said. "After listening to the doctors, we feel Emma developed the problem in the womb."

The Stevens feel Emma laid on her right side in the womb, developing strong neck muscles on that side. After birth, she favored that side and no matter what position they placed her in, she would eventually end up on her right side. The misshapened form got worse as she got older.

In an article by Dr. Jack Woodford from St. Mary's Clinic, he encourages parents to change the sleeping positions of their babies to prevent babies from developing misshapen heads.

According to the article, parents should pick a different position each night, but continue to avoid putting baby to sleep on his tummy. Mild cases of positional molding often correct themselves around the age of five months, when a baby can lift his head more. Many cases are corrected with the special headband which are custom molded to each baby's head.
---