Concertina player makes 10th parade appearance
This article submitted by Linda Stelling on 6/23/99.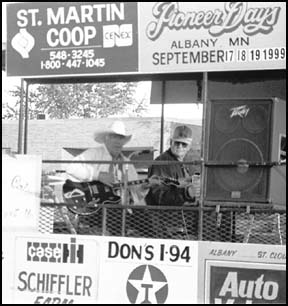 Parade goers have seen the truck with its many signs and concertina player for years in the Paynesville Town and Country Days Parade.

Ronald Shay, 67, Albany, made his 10th parade appearance Wednesday night. Shay has been playing the concertina 24 years. He played the accordion before that. "They both push and pull. One works one way (push and pull) and the other the opposite (pull and push)," he explained.

He started taking part in the parade playing his concertina with Marcellas Nordman of St. Martin on drums. "When Nordman couldn't make a parade, I played both instruments," Shay said. His feet operated the drums leaving his hands free to play the concertina.

Shay explained a person gets used to playing the entire parade route. However, if the routes are real long, they are pretty tired by the end.

"We had two units in the parades when I started," Shay said. Shay later bought one of the trucks from Nordman and fixed it up for parades.

Shay's partner in the parade Wednesday night was Roger Zirbes, who plays guitar and banjo.

"We play in about 20 parades a summer," Shay said. They travel from Glencoe to Granite Falls, Glenwood to Hamel, in addition to taking in all the local parades: Eden Valley, Albany, and Freeport to name a few.

Shay said when he first started coming to the Paynesville parade, he received $75 for his efforts. Today, he donates his time.

The two men have been playing together about six years. Shay and Zirbes also play their instruments at other activities besides parades.
---