Merriam's Midway Shows have been part of Town and Country Days for years
This article submitted by Michael Jacobson on 6/23/99.
For years, one of the constants of the Town and Country Days celebration has been the carnival. Merriam's Midway Shows has been a part of the yearly festival in Paynesville for over 40 years.

Dale Merriam, who bought the carnival from his father in 1974, has been here every year since then. His longest serving employee has worked for the carnival for 50 years and been to Paynesville a number of times, but this year he was in Nebraska with the Merriam's other midway, operated by Dale's son and daughter.

Through the years, the midway has been held at several locations, from the Industrial Park to the elementary school to the downtown streets. Dale recalled one memorable year in the early 1970s when the carnival was just north of downtown Paynesville across the railroad tracks. The parade ended just as a train passed through town and Dale said they looked under the passing cars and saw what seemed to be 10,000 legs waiting to get to the carnival.

Merriam's Midway Shows has winter quarters in Somerset, Texas. They start their season in the second week of February and spend four months in Texas, Louisiana, and Arkansas.

In mid-May, they head north for the summer. They split into two midways and tour Iowa, Nebraska, Minnesota, and South Dakota. In mid-September the shows head south again. They close for the season just before Thanksgiving.

"I keep coming back because there's no business like show business,"Ęsaid Andy Saban.

Making cotton candy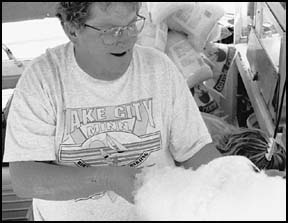 In her 21 years with Merriam's Midway Shows, Nancy Krueger has been to Paynesville 19 or 20 times. Her husband started with the midway in 1976, but quit after half a season because he didn't like being out on the road alone. Nancy accompanied him the following season and has been with the Midway ever since.
She started selling tickets, but is now the food concessions manager, handling the corn dog booth and cotton candy stand. "You have to be versatile to work out here, especially nowadays," she said, "cause it's hard to find help. That's what's nice about Merriam's because it's mostly long-term people."
Nancy's kids worked for the carnival while in high school and her husband until he died eight years ago of a aneurysm.
This year, Nancy spent a lot of her time in the cotton candy booth, making cotton candy. Actually, she said the machine makes the cotton candy and she just puts it in bags and sells it. The cotton candy is fresh everyday, meaning she spends up to 12 hours a day operating the machine and bagging it. "Nobody really wants to do this job anymore," Nancy said. "It's a sticky job."
The flavors for cotton candy are pink vanilla and blue raspberry. "Paynesville people like blue cotton candy," she said.
Nancy works the summer swing with the carnival, from May to September. The rest of the year she lives in Austin, Minn., where she works in a group home for patients recovering from mental illnesses. There is a sister facility in St. Cloud.
A family affair
"I've been doing this all my life. It's the only thing I ever did," said Mark Samuels, who was raised by his mother in Keokuk, Iowa, in the corner of that state by Illinois and Missouri.
Mark's father also worked for Merriam's Midway Shows, as far back as the late 1940s.
Mark started at the midway in the 1970s, first during the summers and on weekends while in school. He studied auto mechanics at one community college in Iowa, and earned a degree in welding at another school.
After graduating in the early 1980s, he started working for Merriam for full seasons. Since then, he has progressed from operating kiddie rides to the Scrambler to the Ferris wheel to the Zipper.
"This is one of the hardest machines to run," he said of the Zipper. At peak performance, 850 people per hour can ride on it, according to Mark. "This thing takes severe abuse," he said.
The actual operation is just the beginning of his duties. He does inspections every morning and maintenance every day. When the midway moves, his crew takes apart the Zipper and the Space Maze, and then assembles them at the next stop. Mark said it takes three and a half hours to tear down both machines and six to seven hours to set up.
Mark said working for the midway requires long hours. At a recent city, they operated the rides from 10 a.m. to midnight and then tore down the rides until 6 a.m. so they could be on the road the next day. "People have no concept of what it takes to move a carnival of this size," he said.
Merriam's Midway Shows came to Paynesville from a festival in Waterville and headed to Janesville when Town and Country Days ended. Despite it being a brief stop each year, Mark said the people and town seem very nice. "I wish we had a couple days off to lounge around," he added.
Eventually, Mark would like to own a ride or booth of his own.
His mother, Mary Ella, still works with the carnival, too, in ticket sales and food concessions.
A new career
Marion Nealon has only worked for Merriam's Midway Shows for four years, but she likes it enough that it may be an extended career.
From Washington, D.C., she has an associate degree in criminal justice and worked as a parole officer for three weeks before quitting. Then she became a Licensed Professional Nurse, and worked in Tennessee for six years.
When her position was eliminated due to staff cuts, she worked for another midway for a season. She started at Merriam's on the Ferris wheel, being the first woman to do a job that is traditionally for men.
This year, she is safety coordinator for the carnival. Her duties include repairs, replacements, set up, tear down, inspections, supervision of the ride operators, and "paperwork, paperwork, and more paperwork."
"It's the hardest job I've ever had," she said. "It's not an easy life."
For example, the Ferris wheel arrived in Paynesville at 9:45 a.m. on Tuesday last week, and they rushed to get it set up by noon. "(Nursing)," she said, "was a whole lot easier."
But, she added, "I'd rather be doing this. I think if it wasn't for Merriam's I'd be doing something else."
Marion makes friends in every town. She sends Christmas cards and writes letters to people and kids she meets throughout the season.
Merriam's oldest members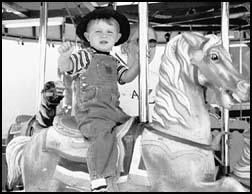 At least two of Merriam's rides are older than Town and Country Days. The Tilt-a-Whirl is a 1947 model that has been in service for more than 50 seasons.
The carousel is a 1948 Allan-Herschell model that Dale Merriam's father bought new from the factory in North Tonawanda, New York. "It's been in continuous service every year since," said Dale.
Last winter, the ride was refurbished, in an effort to restore its original look. The lighting and the background scenery were repaired. Dale said the streamline look and fluorescent lights were in style after World War II. "That's the way they looked in 1948," he said. "I would never, never, ever sell that ride."
The horses on the carousel are distinctive, too. The bodies are made of wood, but the heads, legs, necks, and tails are made of aluminum. Aluminum molding was fairly new then, and each piece was molded separately and then the horses were assembled. The horse shoes were another piece put on at the end.
This use of wood and aluminum gave this type of carousel the nickname of half-and-half. An Allan-Herschell half-and-half is on display at the Smithsonian Institute in Washington, D.C.
---